The Marvelous Wonderettes—Betty Jean, Cindy Lou, Missy and Suzy—sit down with Loni to talk about 1950s love, the (super senior) prom, and, of course, an iPhone music app. Yes, there's an app for that, even if you're in a girl group that existed long before Twitter. The off-Broadway hit is now playing at The San Jose Rep as part their summer blockbuster series. Smiles (and milkshakes) have been seen according to some after each showing. You can read all about the show in this review by Cynthia Corral. Made in the shade!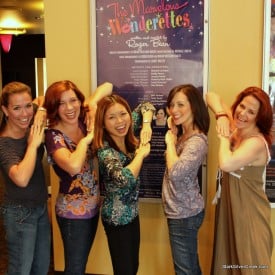 Written by Roger Bean from Seattle who discovered that while in high school his mother had been a varsity song leader. This sent his mind spinning and his imagination into action. What was a song leader, and how was it different from a cheerleader?
Well, one thing would be the songs. Unreal! And there are plenty of them, over 35 in fact during the two hour musical, including many favorites: "Lollipop," "Dream Lover," "Stupid Cupid," "Lipstick on Your Collar," "Hold Me, Thrill Me, Kiss Me," "It's My Party," "It's In His Kiss (The Shoop Shoop Song)"
The show is now playing at the San Jose Repertory Theatre. But see it soon. And don't have a cow (man). There is only six days left, and when Sunday, June 27 comes around the girls will "tear ass" (hey, it's the 50's!) and head to the next town.