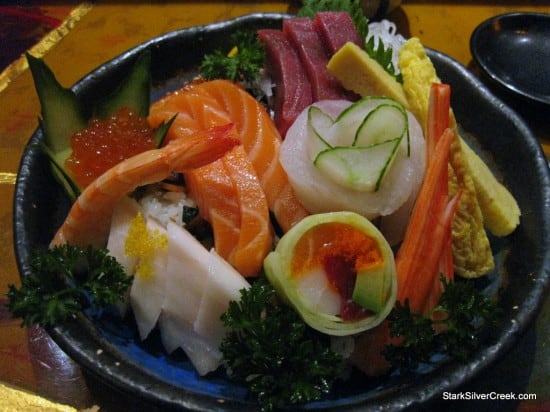 Finding myself with a free evening on a recent trip to Washington, DC, I decide to check out the sushi scene around my hotel. I opt to visit Sakura Japanese Restaurant based on the many positive online reviews. However, after jumping into the hotel shuttle and notifying the driver of my desired destination, he didn't know where Sakura was.
A call to his colleague and a dive into my purse looking for the address, I fathom it would be simpler to visit a sushi restaurant the driver was familiar with.
This is how I find myself seated at the sushi bar at Konami Japanese Restaurant. It is a weekday so there were only a few tables with patrons seated. Something about the ambiance makes me think that on a Friday evening or during lunch, this place would be bustling with possibly some music in the background and  a lively beat. On this particular evening, I welcomed the peacefulness after a rather eventful day.
A few minutes into my dinner, as I was still perusing the extensive menu, a couple of women wrapped up their meal and just before leaving, stopped by the sushi bar to bid the sushi chef goodbye, thanking him profusely for the wonderful meal. This, I thought, was surely a good sign.

I decide to select their Chirashi which is a dish I often choose. The fact that at Konami, the Chirashi is named after the restaurant further convinced me this was a selection I must try. I also decide to select a la carte an order of toro nigiri and an order of hamachi nigiri.
The sushi chef started my order with a little amuse bouche, compliments of the restaurant.
The amuse bouche was beautiful to look at. When I took a photo of it and shared it on Facebook, one of my friends noted it looked like a piece of artwork. From a taste perspective it is just ok. There is smoked salmon in side and avocado on top. The texture is a little crispy and meaty. If you like your sushi cooked, you would probably love this dish. My appetite, however, was seeking the pure raw stuff.
Finally, the Konami Chirashi comes and there are sections of it that is delicately beautiful, including a bundle of raw fish that is bound by a thin slice of cucumber. It was very good, but did not live up to my expectations for a dish named after the restaurant.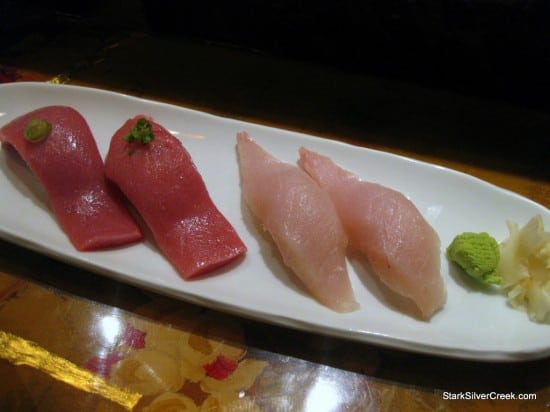 I am pleasantly surprised with was the varieties of raw fish that is available. I choose an order of Toro (fatty tuna belly) which melts in my mouth like butter.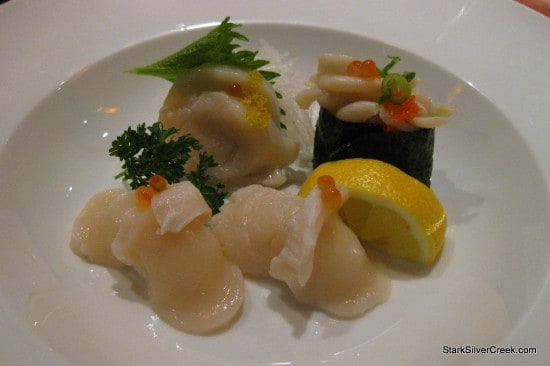 The last dish I order is the live giant scallops, which are so large the sushi chef resorted to making an entire dish with it. Needless to say this was a luxurious treat and a wonderful way to end the meal.
With my belly full of sushi and probably more than a few glances by the restaurant staff on how such a person of my size could consume so much sushi, I happily rolled out of the restaurant. As I was leaving, a black limo pulls up to the restaurant and an old Japanese couple climb out. It seemed they are making a special trip to visit Konami.
I look back at the restaurant. It's location next to a gas station on a busy road is not where I would expect to find a sushi oasis. I am glad events of the evening led me to it.