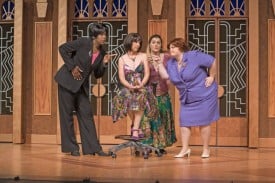 It's time to kick-up those high heels. The international hit show Menopause The Musical® comes to the Bay Area and will be performing at the California Theatre in San Jose six for shows only, August 18 – 22 and at the Herbst Theatre in San Francisco for five shows only, August 24 – 27, 2010.
Set in a department store, Menopause The Musical® follows four women with seemingly nothing in common but a black lace bra who meet by chance at a lingerie sale. The characters laugh at their woeful hot flashes, forgetfulness, mood swings, wrinkles, night sweats and chocolate binges. A sisterhood is created between these diverse women as they realize that menopause is no longer The Silent Passage! It is a stage in every woman's life that is perfectly normal!
Starring in this off Broadway smash hit are local celebrity Megan Cavanagh, best known as "Marla Hooch" from A League of Their Own; Kimberly Ann Harris, who made her Broadway debut in The Color Purple as "Church Lady Doris"; and long time Menopause The Musical® veterans Liz Hyde and Lisa Fox.
Menopause The Musical® is the work of writer and producer Jeanie Linders. The laughter-filled 90-minute production includes parodies from the classics of the '60s and '70s and '80s.