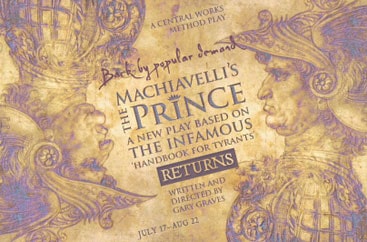 Central Works theater has announced that Machiavelli's The Prince will once again return to the stage this summer in Berkeley. The new play, based on the infamous "handbook for tyrants", is written and directed by Gary Graves.
As the second offering in the company's 20th Anniversary Season (1991-2010), this engrossing drama pits "Master Machiavelli" against the new Duke of Florence in a clash of faith and reason. Are human beings essentially good or fundamentally untrustworthy? Does the end ever justify the means? Back with a new cast, the material purports to be more immediate relevant than ever.
"States thus acquired have been accustomed either to live under a prince, or to exist as free states; and they are acquired either by the arms of others, or by the conqueror's own, or by fortune or valour."
The cast features Mark Farrell and Cole Alexander Smith, with costumes by Tammy Berlin, sound by Gregory Scharpen and stage management by Louel Señores. The Prince runs July 17 – August 22 at the Berkeley City Club.