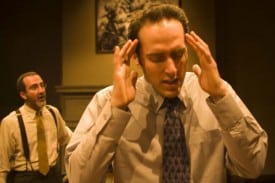 Berkeley's intrepid "new play factory," Central Works, has been awarded $20,000 from the Kenneth Rainin Foundation. The grant will support the company's New Play Program 2010–2012, a three-year initiative to develop and produce nine world premiere plays utilizing the Central Works Method. Following on last November's award of $30,000 from the Wilder Green Art Fund, these two grants, amounting to $50,000, will bolster the company's commitment to develop new plays.
Now in its 20th season, Central Works develops and produces its own scripts using a distinctive process of collaborative play development. The next project in the program is Penelope's Odyssey, a new take on Homer's Odyssey, opening October 16, 2010.  The initial project of the New Play Program, An Anonymous Story by Anton Chekhov, premiered earlier this year.
Initiated in 2009, the Kenneth Rainin Foundation's arts grant program supports dance, theater, film and early literacy in the San Francisco Bay Area. The Foundation seeks to support the work of organizations that reflect its core values of innovation, collaboration and connection.
Central Works next production, Machiavelli's The Prince, returns after last summer's sold–out world premiere run.  Back by popular demand with a new cast and more immediate relevance than ever–opening July 17.