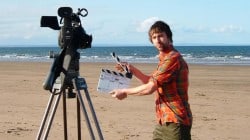 What kind of film could you make in just 48 hours? Oh sure, anyone can make Avatar given a billion dollars, and enough time, but don't forget about the scrappy film-makers and aspiring directors running the streets, with a bucket load of passion, a few good friends, and a dream. The 48 Hour Film Project is coming to town, and San Jose producer Vincent Lowe announced that registration is now open for the fourth annual competition.
The premise: "in a wild, sleepless weekend, you and a team will make a movie—write, shoot, edit and score it. From scratch. In 48 hours."
On Friday, August 13th, you'll get a character, a prop, a line of dialogue and a genre, all to include in your movie. By Sunday, August 15th, the movie must be complete. Each completed film is guaranteed a screening at Camera 12 Theater in the following weeks.
The event is not only a competition between local film crews, but also a chance to see how this city stacks up against over 80 other 48HFP cities. Registration costs $135 per team. Keep an eye on the project by watching the #48hfp hashtag on Twitter, or by following @sj48hfp.