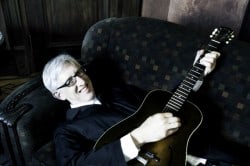 142 Throckmorton Theatre announced today it will hold a special celebration for the release of rollicking guitar pioneer Bill Kirchen's new All-Star Duet Album, Word to the Wise. Joining Bill will be Austin de Lone, Jack O'Dell (drums) and Maurice "Mac" Cridlin, bass plus other guests.
Bill Kirchen has been hailed as the original "Dieselbilly" guitarist, as a standout singer and songwriter, and as a pioneer of rock and roll honky-tonk with the band Commander Cody and his Lost Planet Airmen. Now Kirchen is headed for a breakout with his new album of all-star duets, 'Word to the Wise," featuring his A-List colleagues Paul Carrack, Commander Cody, Elvis Costello, Dan Hicks, Nick Lowe, Maria Muldaur, and others.
Full of humor, Telecaster twang, and serving up heaping portions of rock and roll, country, boogie-woogie and Western swing, 'Word to the Wise' features duets with nearly a dozen guest artists he's met along the way. It includes masterpieces old and new, such as Roger Miller's classic "Husbands and Wives," a new Dan Hicks/Bill Kirchen co-write (the title track, "Word to the Wise,") and Kirchen's powerful rocker, "Man in the Bottom of the Well," sung unforgettably by Elvis Costello.
'Word to the Wise' also features a new classic with Commander Cody on piano: "I Don't Work That Cheap" is a surrealistic romp through history that recalls the psychedelic spirit of Dylan's "Subterranean Homesick Blues," concluding with the memorable line, "You can't pay me what I'm worth – I don't work that cheap."
The CD release party happens Friday, June 25 at 8:00pm at 142 Throckmorton Theatre in Mill Valley.