The 29th Annual Mill Valley Wine & Gourmet Food Tasting featuring 30+ gourmet food vendors and 70+ wineries including newcomers Jus Soli, Field Recordings, Matthiasson, and many more not to be missed. Each year over 1,500 people from the Bay Area and northern California attend the Mill Valley Wine & Gourmet Food Tasting to enjoy the ultimate sensory experience for food and wine aficionados.
The highly anticipated Wine & Gourmet Food Tasting will take place on Sunday, June 27th, from 1-4pm on the Depot Plaza in beautiful downtown Mill Valley. Tickets are $40 per person in advance; $50 per person day of event and includes a commemorative tasting glass and unlimited food and wine tasting. Tickets are available at Mill Valley Market, located at 12 Corte Madera Avenue in downtown Mill Valley or online at millvalley. Because of legal, health and safety reasons, attendees must be 21 to be admitted, and bicycles, strollers or dogs cannot be allowed in the event.
Founded in 1981 by Jim Canepa, former owner of Mill Valley Market, as a "little wine and cheese gathering," the Mill Valley Wine & Gourmet Food Tasting has evolved over time to become the preeminent event of its kind in the greater Bay Area. Noted for its crème de la crème selection of hard-to-find and sought after wines, as well as an amazing array of gourmet products and the hottest recipes from the culinary world, this is a connoisseur opportunity not to be missed! Five of Marin's most highly regarded restaurants including the Balboa Café, Bungalow 44, Piatti, Piazza D'Angelo and Small Shed Flatbreads, as well as two exceptional new Mill Valley eateries Dish and Tsukiji Sushi, will enhance the event with signature tastings. Outstanding live jazz and a silent auction will also compliment the afternoon's activities on the Plaza.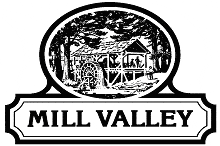 Vintners from Napa, Sonoma, Alexander Valley and Mendocino will be joined by wineries from throughout the Pacific Northwest. International wines from France, Spain, Australia, Greece and Argentina will also be featured. Highlights this year are several new up and coming wines that are on our must try list – including Jus Soli with Zinfandel to die for; Field Recordings with incredible reds; Mattison Sauvignon Blanc that will impress all tasters; Odisea Wine Company Grenache blend, a rarity for California; and Speedy Creek Winery with an exceptional Cabernet Sauvignon. Also not to be missed, Lewis Cellars and Tor Kenward family wines – out of this world! Wine lovers will also want to seek out Silver Oak, Heitz Wine Cellars and Pride Mountain wines. And make sure not to miss Lewelling Vineyards Cabernets, Nickel & Nickel Winery Cabs and Chardonnays, and Napa vintners Mayacamus Vineyards. Also back by popular demand will be a selection of Pinot Noirs and Pinot Gris from Oregon vineyards.