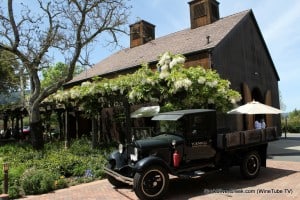 Oakville Grocery is about as historic a landmark as you'll find in Napa Valley. Then again, highway 29 is filled with history. Just breathe the air here and you know you're somewhere special.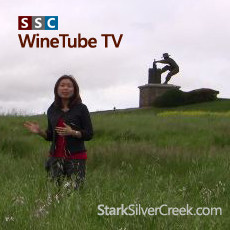 In this episode of WineTube TV Loni kicks off the season with a visit to Turnbull Wine Cellars in Oakville, just a short distance (or a few twirls!) from the famous grocery store.
You know you're in the right place when you spot the old black Ford truck out front (there's another out back), parked between the two large wooden tasting rooms.
One of the unique and fun things about this tasting room is the art gallery. At any given time there's a photography exhibit that you can enjoy while strolling up and down the aisles of barrels in the lofty (and definitely echoey!) tasting room.
Tasting notes to come later in detail, but for now here's the teaser video, with Loni tasting through the '08 Sauvignon Blanc, and the '05 and '07 Cabernet Sauvignons from their flagship and well-regarded "Black Label" collection.