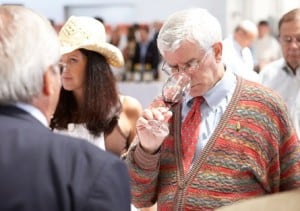 Slow Food San Francisco will host its annual fund raiser for the seventh year at the Fort Mason Center. The 2010 Golden Glass will celebrate the efforts of over 100 international wine producers who strive to protect, nurture, and revive the indigenous and classic varieties of their regions. The wineries will be clustered in designated, regional areas throughout the pavilion to help attendees taste and learn about the regional and terroir nuances directly from the winemakers and proprietors themselves.
Slow Food San Francisco's annual Golden Glass is a lively gastronomic and educational event featuring the year's most talked-about international wines complemented by culinary delights from the Bay Area's top restaurants and artisan producers. The event will highlight international wineries, each with a compelling environmental, sustainable, or regional story to share. Taste over 200 wines, meet the winemakers, and mingle with Slow Food supporters.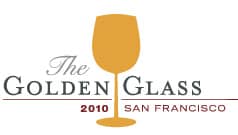 The 2010 Golden Glass event will hold a Wine Competition, encompassing wines from around the world throughout Europe, New Zealand and California judged by a team of top national and global wine experts the week prior to the June 12th event. The purpose of the first annual Golden Glass Wine Competition was to showcase and honor the caliber of the wines participating in the annual Slow Food tasting event: wines which reflect Slow Food production principles of "good, clean and fair", whether organic, sustainably grown or biodynamic. Golden Glass awards, as well as silver and bronze honors, were given to the designated best wines in six varietal categories: sparkling; white (mono); white (blend); red (mono); red (blend); and dessert. In addition, two wines, a white and red, respectively, were awarded a special Expression of Terroir" award, which recognized a wine as a true representation of a specific terroir and historical grape.
Slow Food U.S.A. oversees Slow Food activities in North America, including the support and promotion of the activities of 150 local chapters, or "convivium," that carry out the Slow Food mission on a local level. Each convivium advocates sustainability and bio-diversity through educational events and public outreach that promote the appreciation and consumption of seasonal and local foods and the support of those who produce them. Proceeds of the event benefit Slow Food San Francisco's Slow Food in School Programs, including school gardens, and real school lunch. We also support the Slow Food USA's Ark of Taste program.
WINERY PARTICIPANTS

ITALY

FROM ABRUZZO
Cantina Tollo
Centorame
Scarpone

FROM FRIULI- VENEZIA GIULIA
Renzo Sgubin

FROM LE MARCHE
Castello delle Regine
Ciu Ciu Vini
Marotti Campi
Alberto Quacquarini
Raina Viticoltori in Montefalco
Tenuta San Rocco

FROM LOMBARDIA
Frecciarossa

FROM PIEMONTE
Alessandria
Antica Grapperia Elena Borra
Anzivino
Cascina Bruciata
Filippo Gallino
Fratelli Alessandria
La Corte
La Montagnetta
Poderi Ruggeri Corsini
Prunotto
Renzo Castella
Tenuta Mazzolino
Tranchero Osvaldo

FROM SARDEGNA
Pala

FROM TRENTO ALTO ADIGE
Cantina San Michelle Appiano
Cantina Produttori Coltrerenzio
Colterenzio

FROM TUSCANY
Casa alle Vacche
Cantina Fornacina
Morisfarms
Sassotondo
Tenuta di Montecucco

FROM UMBRIA
Raina
San Rocco, Tenuta

FROM VENETO
La Montecchia
Nicolis
Ruggeri
Zenato

FROM THE REST OF ITALY
D'Antiche Terre – Campania
La Crotta Di Vengneron – Valle d'Aosta

UNITED STATES

FROM MENDOCINO
Mendocino WineGrape & Wine Comission (MWWC)
Paul Dolan Vineyards
Handley Cellars
Breggo Cellars
Esterlina Vineyards and Winery
Navarro Vineyards
Bink Wines
Magnanimus Wine Group
Pacific Star Winery
Baxter

FROM THE REST OF CALIFORNIA
Derby Wine Estates
Occasio Winery
Riverbench Vineyard
Terra Savia Organic Wines
RESTAURANTS ATTENDING

A16
Acquerello
Betelnut
Delfina Pizzeria
E Tutto Qua
Flour + Water
Frantoio
The Girl and the Fig
Heaven's Dog
Il Cane Rosso
Lark Creek Steak
One Market
Plum Restaurant
Perbacco
Ristobar
Serpentine
Slow Club
Thirsty Bear
FOOD ARTISANS ATTENDING

Apollo Olive Oil
Caffe del Doge
Del Real Medjools
Nana Mae's Organics
Rustic Bakery
Shokolaatt
Stella Cadente
NGO VENDORS

Buy Fresh, Buy Local
CAFF
CUESA
EAT REAL Festival
Edible SF
Farm Fresh to You
Food & Water Watch
The Fruit Guys
Nana Mae's Organics
La Cocina Community Kitchen
Roots of Change