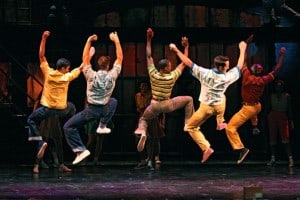 The announcement of eight 2010 Tony Award nominations for the Broadway hit Memphis was cause for celebration at TheatreWorks, the Silicon Valley theatre company that gave birth to the musical.
The show was developed at TheatreWorks' 2002 New Works Festival and received its world premiere in 2004 on TheatreWorks' Mainstage. Since then, Memphis has been working its way to Broadway, where it made its debut last October.

It was announced the rock 'n' roll sensation was one of the most nominated shows of this Broadway season, including Best Musical; Best Book of a Musical; Best Original Score; Best Performance by a Leading Actor in a Musical (for Chad Kimball in the role he performed at TheatreWorks); Best Performance by a Leading Actress in a Musical (for Montego Glover in the role she performed at TheatreWorks); Best Direction of a Musical; Best Orchestrations; and Best Costume Design of a Musical.
A collaboration with leading playwright Joe DiPietro and composer-keyboardist David Bryan of the Grammy-nominated rock band Bon Jovi, Memphis is based on a concept by George W. George, chronicling the birth of rock 'n' roll and the deejay who first played the music of black and white America together.
TheatreWorks presented the World Premiere of Memphis on the TheatreWorks Mainstage in January 2004 (in a co-presentation with the now-defunct North Shore Music Theatre.) The musical went on to be staged by the La Jolla Playhouse in San Diego and the 5th Avenue Theater in Seattle. It opened on Broadway at the Shubert Theatre on October 19, 2009 where it has grossed more than $18.24 million to date. A national tour will launch in September.
Memphis joins two other shows that have origins in the Bay Area in receiving nominations for the 2010 Tony Awards. Berkeley Repertory Theatre's productions of American Idiot and In the Next Room, or the Vibrator Play each received three nominations.
It's been quite a week for TheatreWorks. In addition to the Memphis nominations, TheatreWorks received 7 Bay Area Theater Circle Critics' Awards on Monday night. TheatreWorks' BATCC Awards include:
* Entire Production: "It Ain't Nothin' But the Blues.
* Principal Performance, Female, to C. Kelly Wright in, "It Ain't Nothin' But the Blues."
* Supporting Performance, Female to Allison Briner, in "Tinyard Hill."
* Supporting Performance, Male, to James Moye, in "Tinyard Hill."
* Director, to Randal Myler, for "It Ain't Nothin' But the Blues."
* Sound Design, to Cliff Caruthers for "It Ain't Nothin' But the Blues."
* Ensemble, for "It Ain't Nothin' But the Blues."