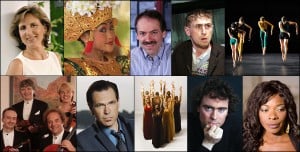 Director Matias Tarnopolsky announced Cal Performances' 2010/11 Season, his first season of programming as head of the internationally recognized 105-year-old institution based on the campus of the University of California, Berkeley. One of the leading performing arts presenters in the world, Cal Performances opens its 2010/11 season on September 26 with its first "Fall Free for All," a full day of free performances, and continues with more than 100 performances in 10 diverse series, featuring both rising stars and the greatest established artists from the genres of classical music, jazz, world stage, theater and dance.
"Here in Berkeley and, indeed, throughout the culturally rich Bay Area, we understand that the arts are not extra, but at the heart of who we are," comments Matias Tarnopolsky. "At Cal Performances, I have the honor of bringing together the most important artists in the world—in performance and in dialogue—not only with the many esteemed thinkers who define UC Berkeley, but also, most importantly, together with this great audience. Whether on our stages or out in the community, these musicians, composers, dancers, choreographers and theater artists will challenge, inspire and entertain us, enriching our cultural landscape."
The season is highlighted by performances and residencies by Mark Morris Dance Group, in a program comprising three West Coast premieres: Behemoth, Looky and Socrates; Druid theater company in Martin McDonagh's The Cripple of Inishmaan; Les Violons du Roy with Bernard Labadie and Ian Bostridge; the Silk Road Ensemble with Yo-Yo Ma; the final performances of Merce Cunningham Dance Company, including the full-length Cunningham/Cage collaboration, Roaratorio; The Tallis Scholars with their acclaimed survey of the music of Tomás Luis de Victoria and his contemporaries; Eonnagata, a multidimensional collaboration featuring Robert Lepage, Sylvie Guillem and Russell Maliphant; baritone Bryn Terfel; and pianist Paul Lewis in an all-Schubert program.
The season also includes the Berlin Philharmonic's Scharoun Ensemble Berlin with a new work by UC Berkeley composer Ken Ueno, and two innovative new music ensembles from France: Ensemble Zellig and Les Percussions de Strasbourg, both of which feature premieres by UC Berkeley composer Edmund Campion.
Debuts and first appearances at Cal Performances will include tenor Jonas Kaufmann, currently one of the most sought-after vocal artists in the world; Benjamin Bagby's critically acclaimed solo performance of Beowulf, the Anglo-Saxon epic poem; one of Japan's oldest theater troupes, Zenshinza Theatre Company, with three kabuki plays; the legendary Royal Danish Ballet in two contrasting programs; playwright Wallace Shawn on the Strictly Speaking series; and violinist Christian Tetzlaff performing Bach's complete works for unaccompanied violin. In addition, pianists Nicolas Hodges brings Beethoven and Stockhausen, Jeremy Denk performs Ligeti and Bach, and Jean-Yves Thibaudet offers an all-Liszt evening.
Cal Performances' celebrated commitment to education and community engagement continues this season, with over 100 varied programs serving some 30,000 Bay Area schoolchildren, university students, seniors and residents.