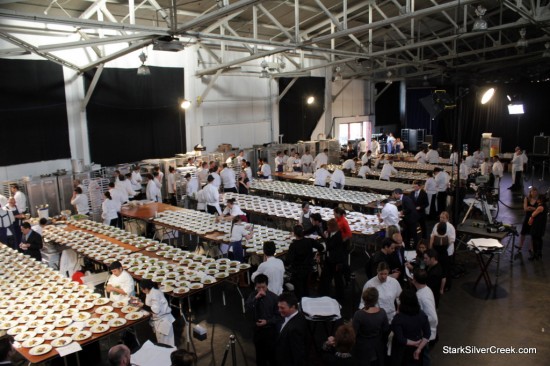 Last night the city of San Francisco came out for the annual Star Chefs and Vintners Gala in support of Meals on Wheels. The event benefits the service which delivers hope to homebound seniors who would not otherwise have access to nutritional meals. The Fort Mason pavilion was transformed into a foodie and wine lovers playground, with 70 star chefs on hand, and over a hundred wineries pouring their finest.
One of the most amazing sights of the evening came behind-the-scenes, where chefs meticulously prepared their dishes with military like precision and scale. In this photo you can see the size of the kitchen area. Quite a sight to behold.
As Loni said, "It's like Iron Chef times a thousand!"
Organizers said the event was well on its way to reaching, and perhaps even surpassing, the $1M goal. From what we heard, the new goal was $1.1M, proving that San Francisco does have a heart.
We have more to report on the event, once we cull through 20GB or so of content including interviews, behind-the-scenes reports, and, of course, food and wine tasting on the scene from Loni Kao Stark. I heard she met up once again with star chef, and Bottega restaurant owner, Michael Chiarello. What would happen this time? Would security be called? Would his food pass the Loni test? Find out soon, as we give you all the sights and sounds from the Star Chefs and Vitners Gala.
Don't miss: Informative tour of the Meals on Wheels operation with Executive Director Ashley McCumber.