Sunday evening at San Francisco's Fort Mason Festival Pavilion was all glitz and glamor as a fleet of the finest chefs and vintners in the area gathered to put on a fantasy of culinary delights.
It was a celebration to commemorate the importance of Meals on Wheels (MOWSF) to the community's seniors and to raise funds to ensure the organization is able to continue to fulfill its mission.
I caught up with Ashley McCumber, Executive Director of Meals On Wheels (previous interview: "Meals on Wheels of San Francisco: An inside look") just as the evening kicked off. He noted this annual gala is the perfect culmination of culinary talent and generosity. The evening represents MOWSF's largest fundraiser and its main source of charitable contributions for the year.
The goal at the start of the evening was to raise $1.1M. By the end of the evening, volunteers were busy tallying up the totals from the silent auction, live auction and raffle ticket purchases. Official totals still have to be announced, but whispers late in the evening was that thanks to the generosity of attendees and participating chefs and vintners, this goal was met and exceeded.
There will be video coverage of the event to come, but for now, here is first course, the event photos.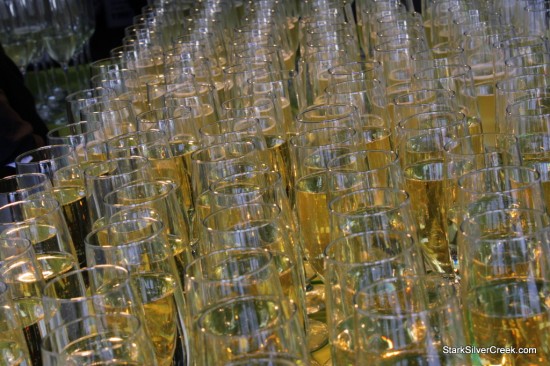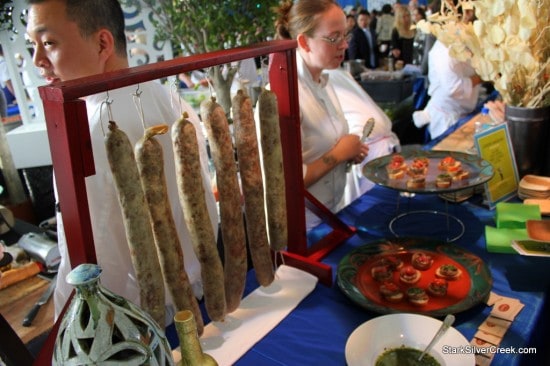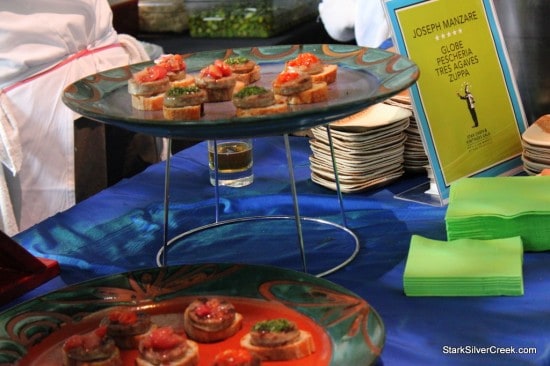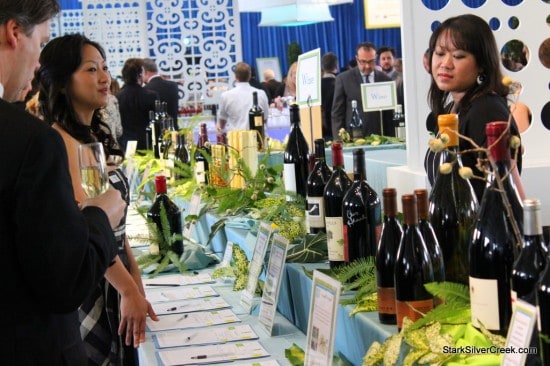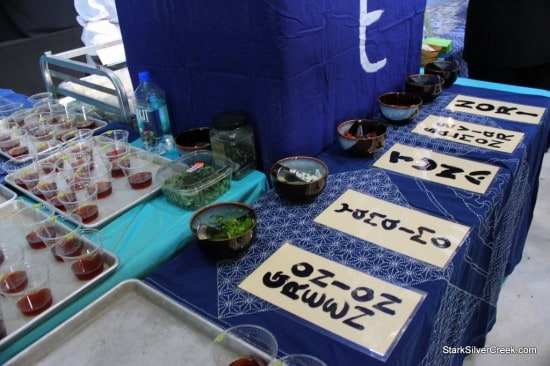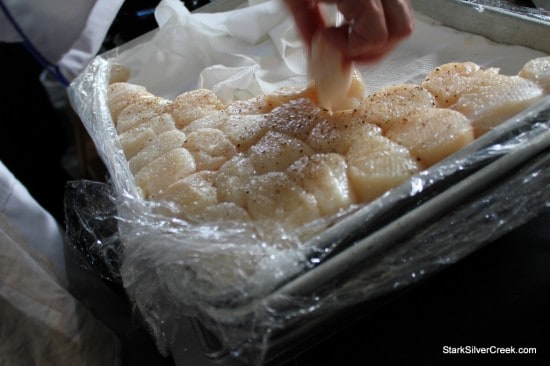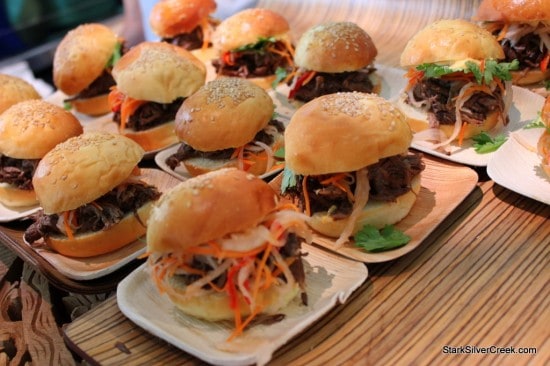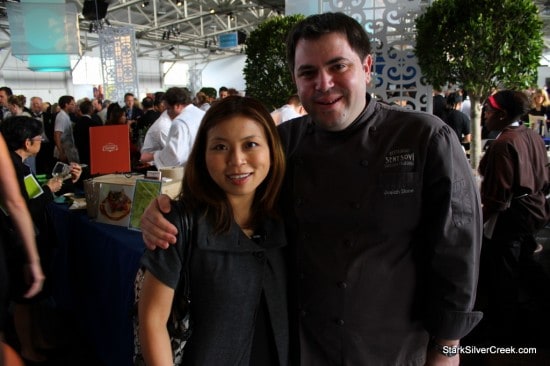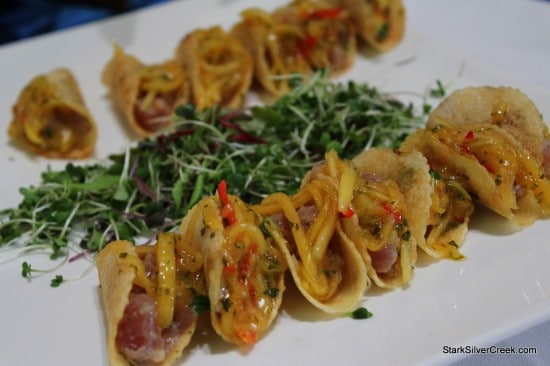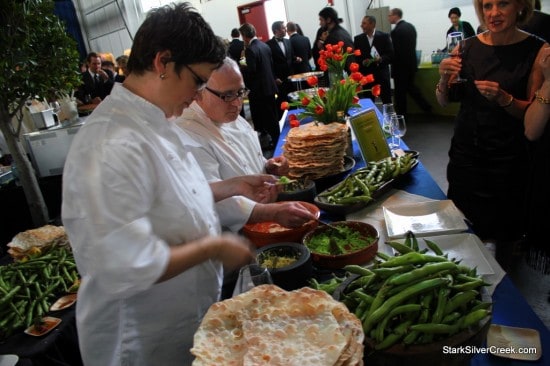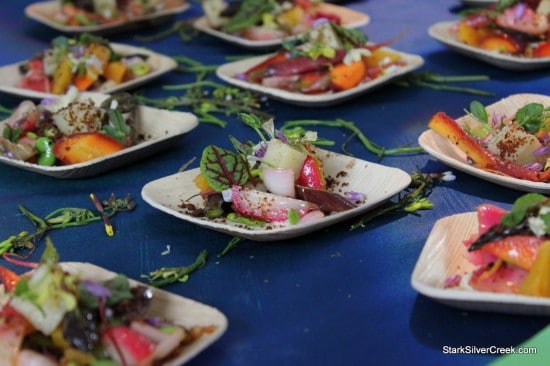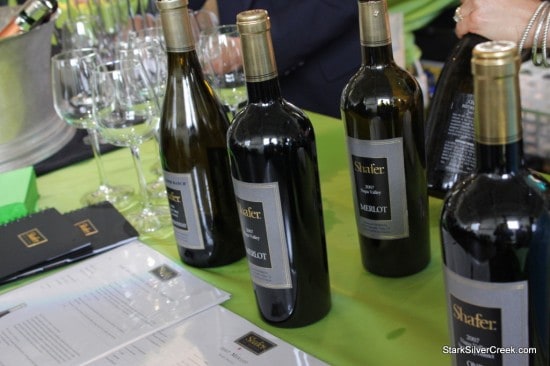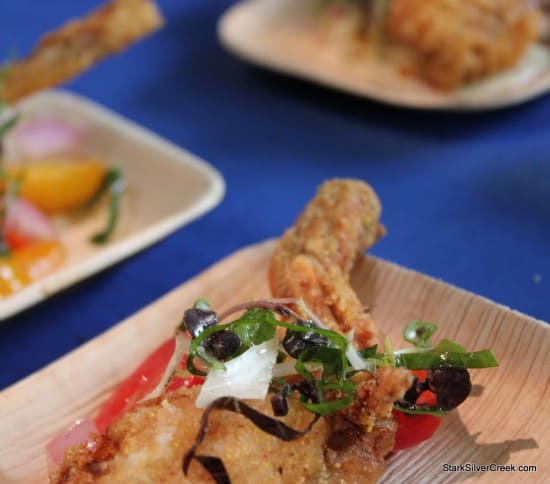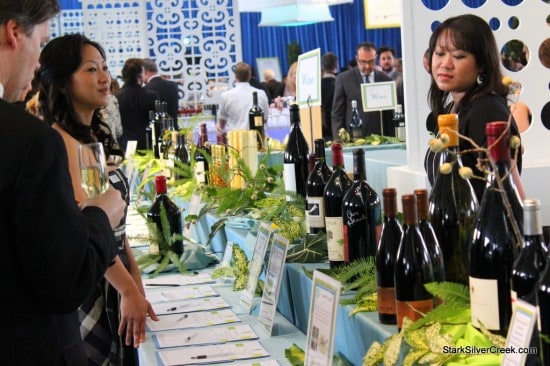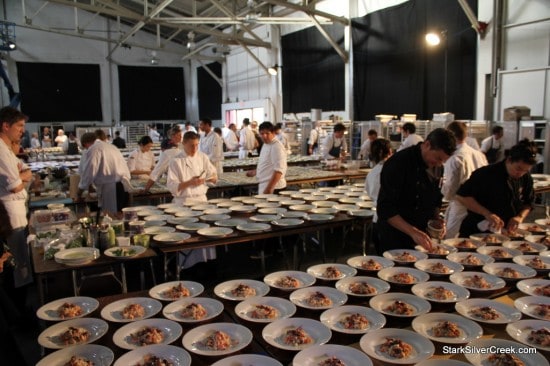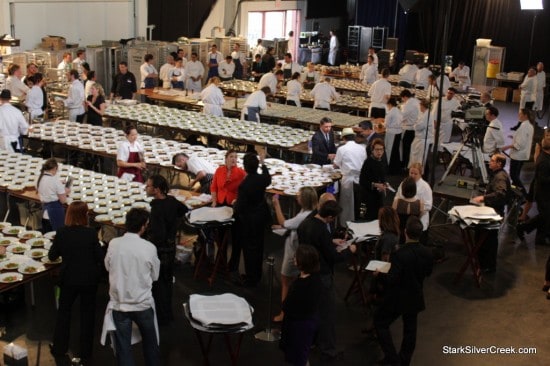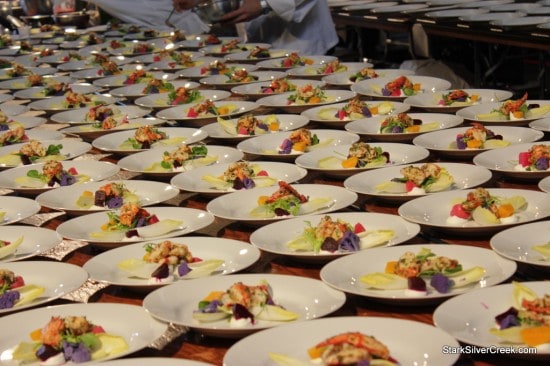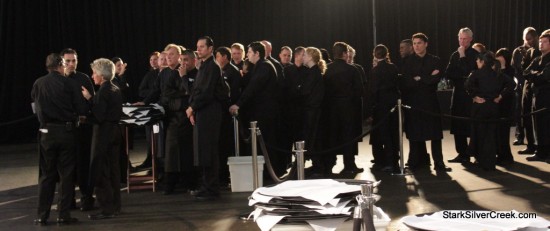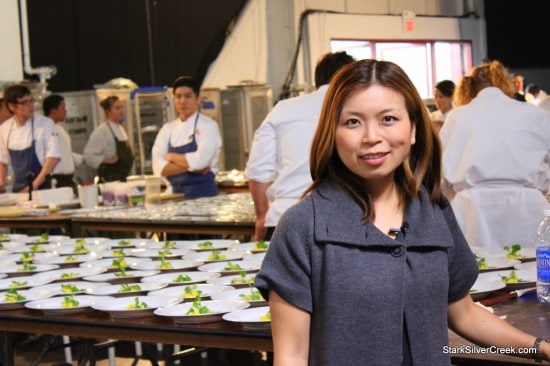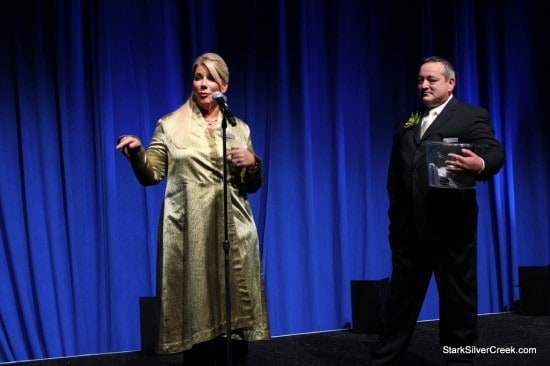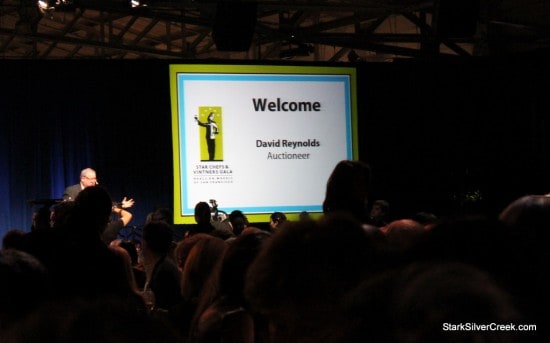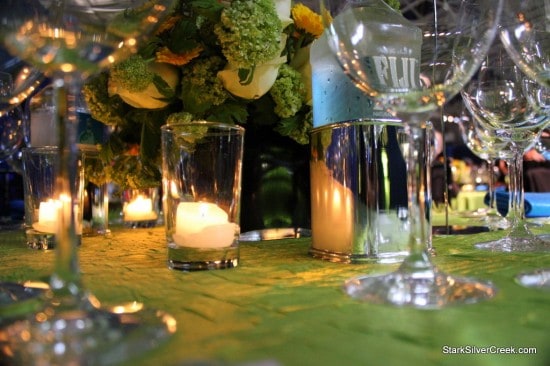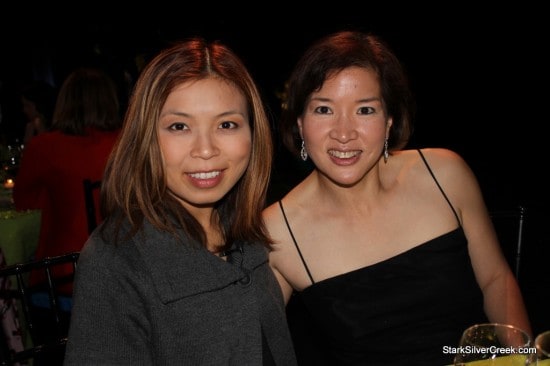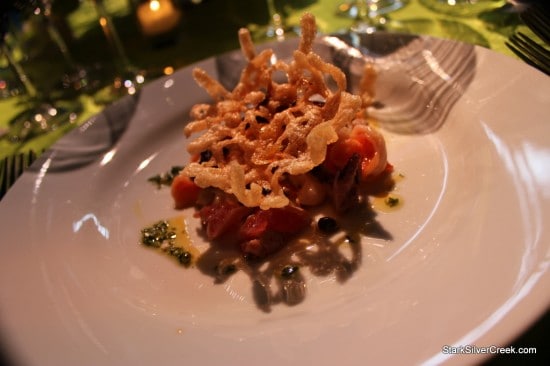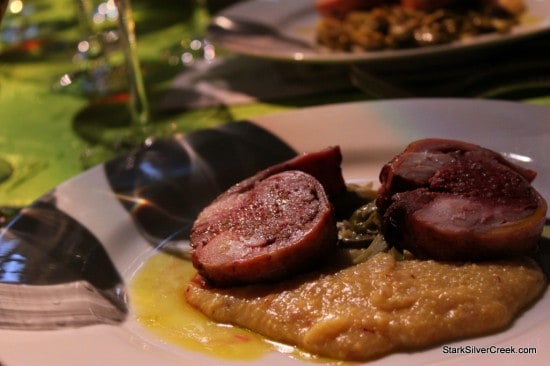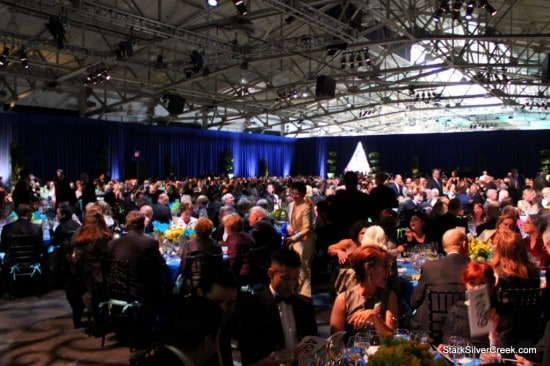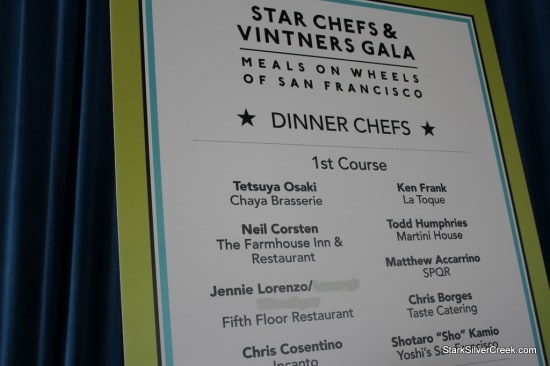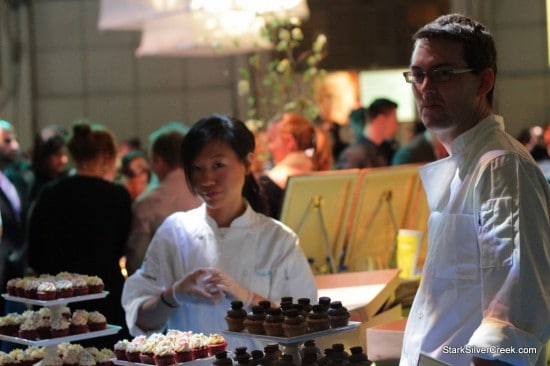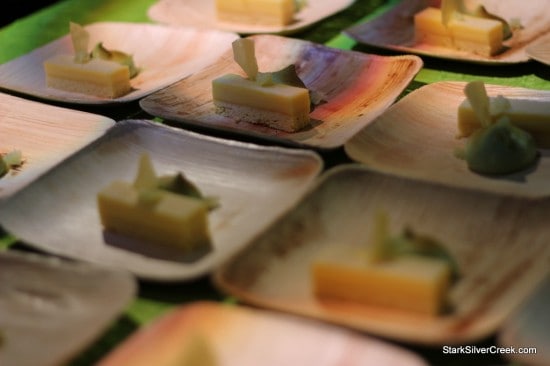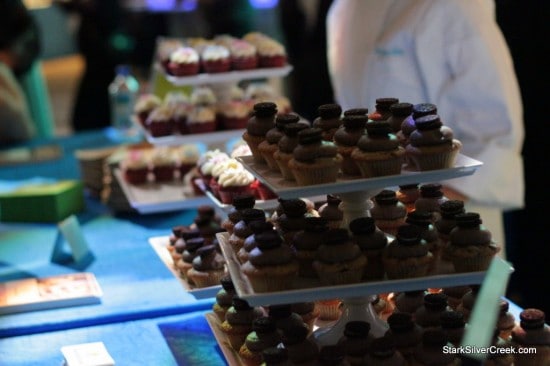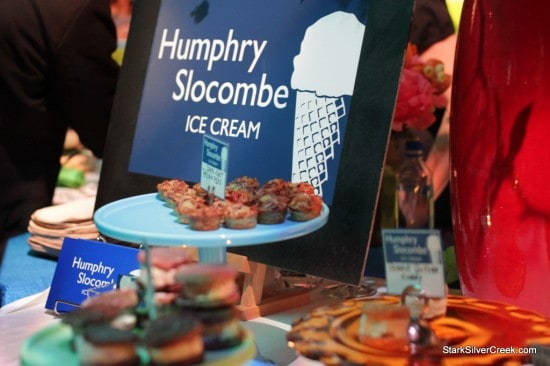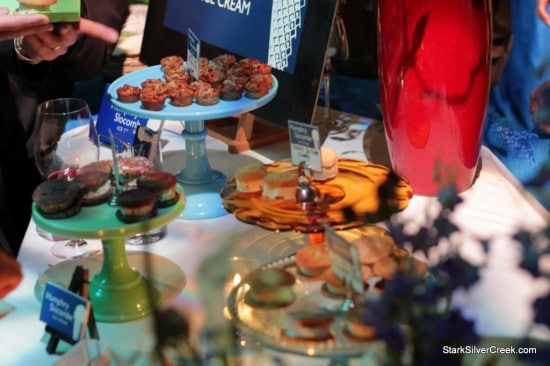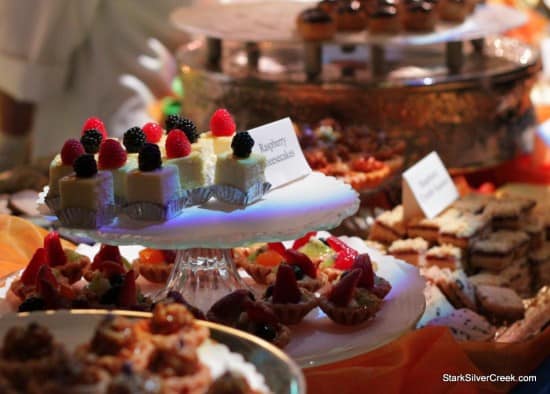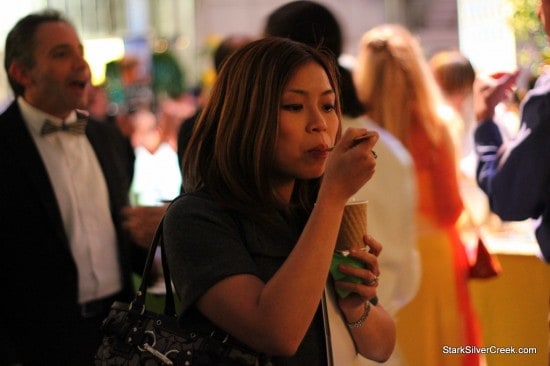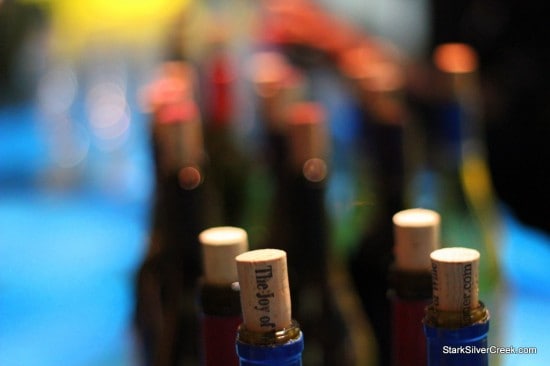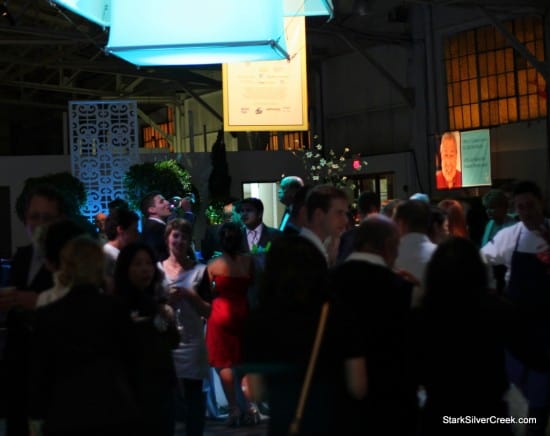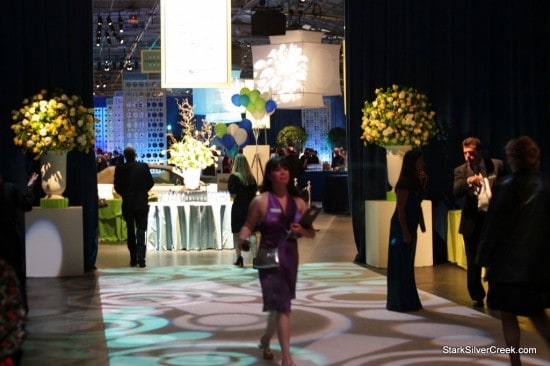 List of Participating Chefs and Restaurants, 2010 Star Chefs and Vintners Gala

Gala Chef Chair, Nancy Oakes-Boulevard

Scott Baird/Aaron Smith * 15 Romolo
Paul John Padua * Ahwahnee Hotel
Daniel Hyatt * Alembic
Kory Stewart * Americano
Mourad Lahlou * Aziza
Jeff Banker/Lori Baker * Baker & Banker
Sarah Burchard * Barbacco
Sean O'Toole * Bardessono
Bar Tartine
Beth & Rob Setrakian * Beth's Baby Cookies
Bruce Hill/Erik Lowe/Aaron Toensing * Bix/Picco Restaurant
Caitlin & James Freeman * Blue Bottle Coffee Company
Gerald Hirigoyen/Robert Petzold * Bocadillos
Robbie Lewis * Bon Appetit Management
Ravi Kapur, Pamela Mazzola & Jessica Sullivan * Boulevard
Maggie Pond * César
Janine Falvo * Carneros Bistro & Wine Bar
Tetsuya Osaki & Yasu Ueno * Chaya Brasserie San Francisco
Elizabeth Falkner * Citizen Cake
Daniel Patterson * Coi
Douglas Keane/Nick Peyton * Cyrus
Peggy Smith/Debra Dickerson * Cowgirl Creamery
Sarah Spearin * Dynamo Donut + Coffee
Arnold Eric Wong & Sharon Nahm * E & O Trading Restaurant
Jan Birnbaum * Epic Roasthouse
Jan Birnbaum * étoile at Domaine Chandon
Steve Litke * Farmhouse Inn and Restaurant
Jennie Lorenzo * Fifth Floor Restaurant
Chad Newton * Fish & Farm
Thomas McNaughton * Flour + Water
John Clark & Gayle Pirie * Foreign Cinema
Joseph Manzare * Globe/Zuppa/Pescheria/Tres Agaves
Annie Somerville * Greens Restaurant
Ken Tominaga * Hana/Go Fish
Hangar One
Scott Beattie * HMS Cocktails
John Burkhard * Hog Island Oyster Company
Jake Godby * * Humphry Slocombe Ice Cream
Chris Cosentino * Incanto/Boccalone
Morgan Mueller * Jardinière
Kara Haspel Lind * Kara's Cupcakes
Vanessa Ainzuain & Timothy Milojevich * La Mar Cebicheria
Ken Frank * La Toque
Ben de Vries * Luella
Todd Humphries * Martini House
Chris L'Hommedieu * Michael Mina
Michael Recchiuti * Michael Recchiuti
Priscilla Chung * Moon Baby Cakes
Joseph Humphrey * Murray Circle at Cavallo Point
Nick Balla * Nombe
Laurence Jossel * NOPA/Nopalito
Nora Tong * Nora's Patisserie
Mark Dommen * One Market Restaurant
Spencer O'Meara * Paragon Restaurant & Bar
Staffan Terje * Perbacco
Dean Dupris * Pican
Bruce Hill & Chris Whaley * Picco Restaurant
Gerald Hirigoyen * Piperade
Peter McNee * Poggio Trattoria
Ravi Kapur & Brooke Arthur * Prospect
Michelle Polzine * Range
Richard Reddington * REDD
Xavier Salomon & David Mangione * The Ritz Carlton, Half Moon Bay
Jason Berthold * RN74
Pablo Estrada * Rose Pistola
Jon Gasparini/Greg Lindgren * Rye Bar
Robert Leva * Salt House
Jennifer Biesty * Scala's Bistro
Josiah Slone * Sent Soví
Charles Phan * The Slanted Door
Matthew Accarrino * SPQR
Mark Sullivan * Spruce Restaurant
Stuart Brioza
Charles Reis & Paul Arenstam * Summer Kitchen Bake Shop
Chris Borges & Yigit Pura * Taste Catering
Lissa Doumani & Hiro Sone * Terra/Ame
Mark Gordon & Lori Podraza * Terzo
Carneros Bistro & Wine Bar
Derek Poirier * Valrhona
Parke Ulrich * Waterbar
Shotaro "Sho" Kamio * Yoshi's San Francisco
List of Participating Wineries, 2010 Star Chefs and Vintners Gala

Anomaly Vineyards
Artiste Winery
Balletto Vineyards
Beringer Vineyards
Breggo Cellars
Copain Wine Cellars
Culler Wines
Donelan Family Wines / Pax Wine Cellars
Buoncristiani Family Winery
Cakebread Cellars
Capture Wines
Chiarello Family Vineyards
Cliff Lede Vineyards
Donelan Family Wines / Pax Cellars
Duckhorn Vineyards
Elizabeth Spencer Wines
Esterlina Vineyards and Winery
Ferrari-Carano Vineyards & Winery
Freeman Vineyard & Winery
Hanna Winery & Vineyards
Hanzell Vineyards
Harrington Wines
Harvest Moon Estate & Winery
Hawkes Wine
J Vineyards and Winery
Joseph Phelps Vineyards
Kamen Estate Wines
Kelly Fleming Wines
Keplinger Wines
Ladera Vineyards
Laetitia Vineyard & Winery
Lancaster Estate
Landmark Vineyards
Larkmead Vineyards
Lawyer Family Wines
Marston Family Vineyard
Martinelli Winery
Mauritson Family Cellars
Mayacamas Vineyards
Merry Edwards Winery
Michael-David Winery
Miner Family Vineyards
Morgan Winery
Mumm Napa Valley
Navarro Vineyards
Nicholson Ranch
Oakville Ranch Vineyards
Outpost Winery
Palmina Winery
Parallel Wines
Patz & Hall
Paul Hobbs
Peter Paul Wines
Poem Cellars
Pride Mountain Vineyards
Radio-Coteau Wine Cellars
Ridge Vineyards
Robert Sinskey Vineyards
Rodney Strong Vineyards
Rombauer Vineyards
Saddleback Cellars
Sbragia Family Vineyards
Shafer Vineyards
Silver Oaks Cellars
Skinner Vineyards
Skylark Wine Company
Stag's Leap Wine Cellars
The Other Guys Wine Comapny, A Part of the Don Sebastiani Family of Comapnies
Three Sticks Winery
Vine Cliff Winery
Vineyard 29
Wattle Creek Winery