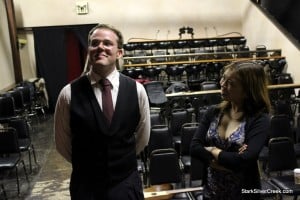 Director and playwright Stuart Bousel combined four stories by Peter S. Beagle to create the mesmerizing and memorable production, Giant Bones. Since 2003 the artistic director of No Nude Men Productions in San Francisco, Bousel has directed a range of classics, from Greek tragedies to Shakespeare to the legend of Dr. Faust, as well as new works.
But, has he ever encountered a wardrobe malfunction before? Find out what happens when Loni heads to the EXIT Theatre in the Tenderloin to meet up with Bousel. The show must go in, or as he says about Loni's out-of-shoe stumble, "Live theater, right here!"
Black-box theater—tiny spaces converted into live performance venues—are a welcome addition to the arts, places where you'll often find the most innovative, fresh, and creative shows. They are worth seeking out. EXIT Theatre currently has three stages as Bousel tells us, and will be adding two more soon. Absurdly impressive, no?
One of the by-products of efficient space utilization, is a cramped (i.e. cozy) dressing room. Loni and Stuart spring in unannounced with cameras in tow to catch the cast of Giant Bones prepping for a show that begins in less than an hour.
And, of course, what would an evening of theater be without food, drink and merriment? Fortunately at EXIT, you have the aptly named EXIT Cafe next door where you can enjoy pre- and post-show libations. You can even see a photo below of the pizza that Clint and Loni enjoyed before catching the gala premiere of Giant Bones. All drinks can be brought into the theater, which is not a bad idea considering how warm it can get in there.
If Giant Bones is a play for story-lovers, then this episode of SSC Presents is a snapshot in time of a creative story-teller himself, Stuart Bousel. Wearing many hats, be it as an actor, director, or writer, he's on his way now to having completed some 30 productions. Quite an amazing resume. Bousel is one to follow. We'll be hopefully hearing and seeing more from him over the coming years.