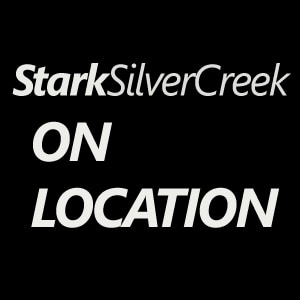 A re-imaged edition of Peter Pan opened recently in San Francisco. The impressive, technology-laden production boasts a ground-breaking three-sixty-degree projection screen that makes for some astonishing visuals. Sure to entertain young and old alike, the show has transformed the Ferry Park along the Embarcadero into a fun-filled village. Giant whirly popsicles, a magical moments game, candy, drinks, even pirate cupcakes are all part of the action.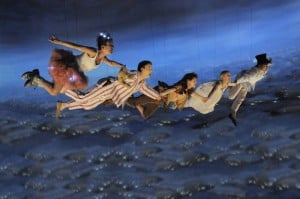 In this episode of SSC On Location, Loni heads to the opening of the show to see what everyone's been raving about in London (where the show was a smash hit in 2009).
One of the most amazing parts of this unique version of Peter Pan is the venue itself. Producer Mat Churchill says, "The massive external girders that suspend the auditorium not only enable Peter and Wendy to fly unhindered by traditional tent poles, but also help create a striking temporary landmark over 100 feet high."
The projection screen creates jaw-dropping visuals. Clint mentioned in his review that it was like the famous children's story had been given the Avatar treatment.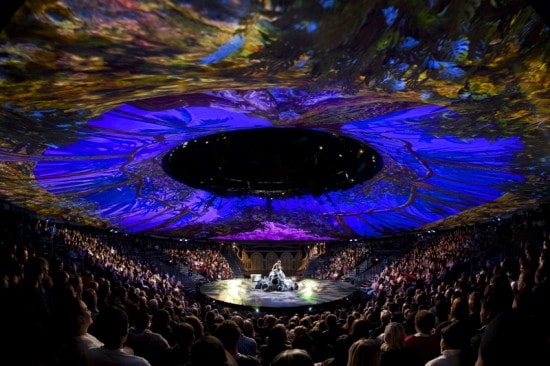 Although you may not see most of it, there is a magical Neverland of technology used to drive what unfolds. The graphics alone required 300 computers to render (the same ones used for the Spider-Man films).
Above all, though, this show is about family and children.
When asked about her favorite magical moment, Loni says, "When I had a panini in Rome." (sorry Clint).
The Pavilion and picnic areas provide some relaxing space to enjoy the friendly atmosphere before and after the show. If you go to Peter Pan, allow some extra time to enjoy the grounds and some of the vistas that San Francisco offers. Come to think of it, this is Neverland by the Bay!
Stark Insider: Twice as fun… but only half as smart.