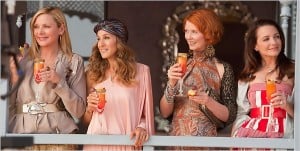 Too much of a good thing can be wonderful, unless you're Sex and the City 2. Then it's the pits. This unnecessary, most unwelcome sequel should have gone direct to streaming (apologies Blockbuster). It's too bad, really. It must take a pretty bad script and low production values to make sort-of likable actors—Cynthia Nixon, Sarah Jessica Parker, Kim Cattrall and Kristin Davis–so unlikable. Think I'm being cruel? You should hear what the critics are saying.
From The Washington Post review, "the more patronizing and self-important the movie becomes, and the more its protagonists come to resemble shrill female impersonators." And Roger Ebert: "The characters of Sex and the City 2 are flyweight bubbleheads living in a world which rarely requires three sentences in a row."
Even the normally kind Canadians at CTV.ca don't approve, "The airbrushing is good. The pool boys are buff. But with no hint of intelligence, this whining mess does little more than tarnish the memory of what once was "Sex and the City."
On BoxOfficeMojo the film currently has an average grade of C- with over 50% rating it an F. Metacritic has a combined score of 35 (out of 100) which puts it near the bottom of all films currently widely available.
Still it's likely to be a top choice for film goers this Memorial Day weekend. Me? I think I'll put my money on MacGruber. Not exactly fine art, but I always appreciate a nice 80's spoof. Life's too short to take seriously, or watching a self-indulgent, two-hour fashion show disguised as a movie.