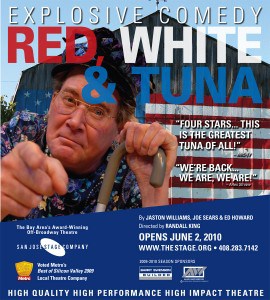 The Stage in downtown San Jose brings on the laughs this summer in the South Bay Premiere Red, White and Tuna. The latest bombastic comedy in the Tuna trilogy has been wildly acclaimed to be what critics call "the greatest Tuna of all!" From the creators of the major hits Greater Tuna and A Tuna Christmas, this new side splitting tour de farce (sic) lets the fireworks fly at the Fourth of July Tuna High School class reunion. As the good people of Tuna say, "WE'RE BACK. We are, we are!"
The tongue-in-cheek humor that made Red, White and Tuna predecessor Greater Tuna so entertaining couldn't be more up to date. Though originally written and produced more than 20 years ago, our country's contemporary political shenanigans and the Religious Right have put the basis for this satirical trilogy right back in the headlines of today's news.
In this latest saga, all the Tuna favorites return as the Prayer Posse led by Vera Carp and Reverend Spikes take on church hymns while Petey Fisk continues his off-beat pleas for a more humane Tuna. The flirtatious Tastee Kreme gals have a food booth at the Reunion serving Aunt Pearl's prize winning potato salad that may have been in the heat too long. You'll laugh till it hurts when you find out who the mystery write-in winner of the Homecoming Queen Contest is. Just another day in the life of Tuna, Texas.
Greater Tuna, which debuted in Austin in fall 1981, moved off-Broadway and became the most-produced play in the United States by 1985, running continuously for a record-breaking seven years at the Marines Memorial Theatre in San Francisco.
In 1989, co-writers and original co-stars Joe Sears and Jaston Williams revisited Tuna by way of San Francisco, where A Tuna Christmas premiered. "It opened two weeks after the big earthquake there," Williams said. "We were worried about presenting it in such a somber milieu. I said, 'The city is in mourning'' But we were told, 'They will be ready to laugh again.' And they were." San Francisco critics, at least, were happy with the show's humor, calling it "deliriously funny" and "a comic masterpiece."
Founded in 1983, San Jose Stage Company is recognized as The Bay Area's Premiere Off-Broadway Theatre, and known for its devotion to new and cutting-edge work and for its commitment to showcasing high-quality local talent. In 1986, San Jose Stage Company set precedence as the first arts organization to negotiate and receive support from the Redevelopment Agency and the City of San Jose when over $500,000 was appropriated in support of the development of a new 200-seat theatre featuring a 3/4-thrust stage, which opened in 1990. Now in its 27th Season, SJSC continues to center its operations in this facility and has successfully produced over 130 productions and premiered 39 new works, including 9 world premieres and is acclaimed for maintaining high artistic standards, investing in local talent and supporting the region's community of working artists while taking artistic risks. In addition to its core programming, San Jose Stage Company offers five core education and outreach programs and has housed over 200 independent performance groups. San Jose Stage Company is a vital force in the community and has earned a reputation for artistic excellence by providing high-quality, edgy theatrical experiences that engage, educate and provoke audiences. San Jose Stage Company serves an audience base of 25,000 and is recognized as a leader in the arts for a theatre of its size.
Previews of Red, White and Tuna begin at The Stage, 490 South First Street, downtown San Jose, on Wednesday and Thursday, June 2-3 at 7:30 pm and Friday, June 4 at 8 pm, with a Gala Opening on Saturday, June 5 at 8 pm. Performances continue Wednesday and Thursday at 7:30 pm, Friday and Saturday at 8 pm and Sunday at 2 pm through July 4, 2010. Tickets range from $20-$45, with discounts for seniors, students and groups. More information: www.sanjosestage.com.