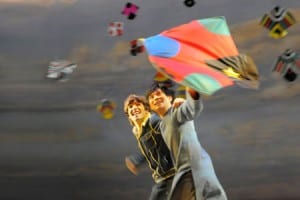 The San Jose Rep Theater received 5 awards last night at the Bay Area Theater Critics' Circle Awards ceremony at the Palace of Fine Arts in San Francisco. All of the awards were in recognition of the stage version of The Kite Runner, which also received the award for outstanding drama.
"I'm very honored that the SF Bay Area Theatre Critics' Circle named our production of The Kite Runner as the Outstanding Drama produced by a large theatre in the Bay Area," comments Artistic Director Rick Lombardo. "We're so pleased to receive this recognition, especially with so many other wonderful productions produced by our colleagues throughout the region in the last twelve months. I'm also pleased that so many members of The Kite Runner team, including Matthew Spangler, Vicki Smith, David Lee Cuthbert and Scott Edwards were also cited for their artistry on this show. Congratulations to all these wonderful artists, and to David Ira Goldstein, Artistic Director of Arizona Theatre Company, who directed this production for us."
Since its world premiere in March of 2009, The Kite Runner has received rave reviews and standing ovations in Tucson and Phoenix and is included in Cleveland Play House's 2010-11 season.
San Jose Rep's world premiere of The Kite Runner, the international best-selling novel by Khaled Hosseini, garnered a total of nine nominations and received five awards from the San Francisco Bay Area Theatre Critics' Circle. These honors of distinction include: Outstanding Production, Original Script – Matthew Spangler, Set Design – Vicki Smith, Lighting Design – David Lee Cuthbert, and Sound Design – Scott Edwards
The San Francisco Bay Area Theatre Critics Circle consists of local critics and has been granting awards annually in the categories of dramas and musicals for over 30 years. The awards were held at the Palace of Fine Arts Theatre on Monday, May 3, 2010.