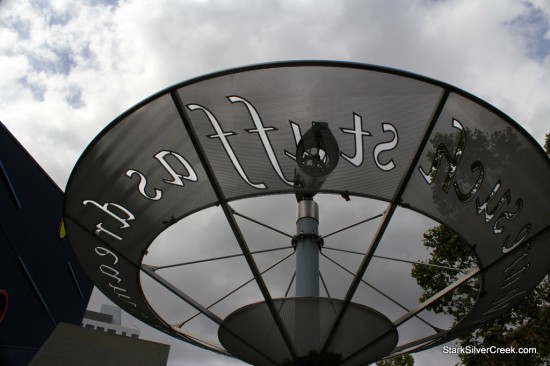 Downtown San Jose is an increasingly beautiful place to stroll. Tree-lined streets, parks, and cafes all can help brighten any day. Another great thing: wonderful public works of art. A variety of sculptures and pieces are on display throughout downtown, each with an interesting story or two. If you've been to the San Jose Repertory Theatre, then by chance you'll recognize this work by artist Douglas Hollis. I hope I'm not the first to confuse it for a satellite dish.
Called Oionos, the work was completed in 1997. Once again there is more here than meets the eye.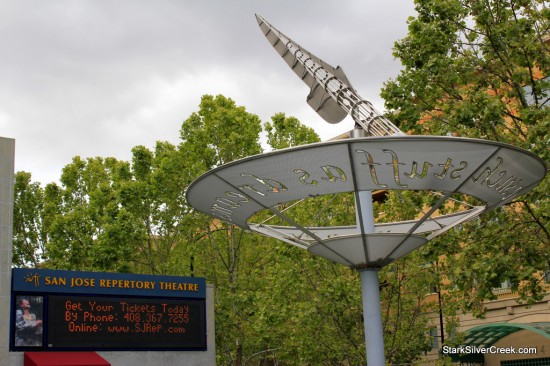 Depending on the time of day and amount of sun, you may even see a quote from William Shakespeare's The Tempest projected onto the plaza paving. What does it say? You'll have to investigate to find out first hand! If you do, be sure to email me your photo of the quotation and I'll include it here for the record, and all to see.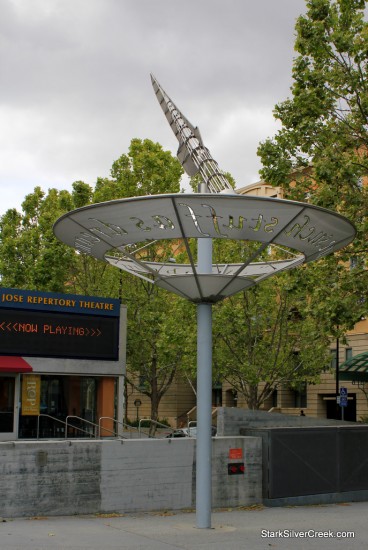 The steel quill you see pictured here is actually wind activated and can extend up to 28 feet long. No word yet, if that will enable the Rep to receive broadcasts from The Bolshoi Theatre, but I wouldn't bet against it. Although maybe it's true and it really does help write on the sky. From Douglas Hollis' web site, "The work celebrates the tools humans have invented (dance, language, and writing) to convey knowledge of time and space."