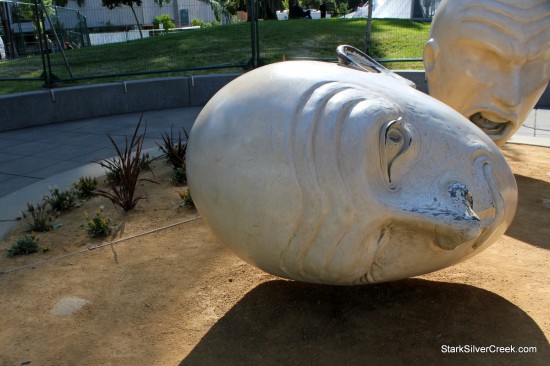 There are so many great things about San Francisco, that it's sometimes easy to overlook all the wonderful public sculptures lurking behind seemingly every corner and open space. A leisurely stroll, or hilly jog can take you past all sorts of interesting metal and ceramic objects.
Take these bronze and enamel eggheads, for example, created by Robert Arneson in 1992. Called Yin and Yang it is part of a seven piece series that depicts intellectuals in various postures.
Originally commissioned by the University of California at Davis where Arneson taught until 1991, they represent a surrealistic observation of the human condition, or, perhaps it's to scare away the children. Is it poignant? Humorous? Or both. I'm not sure exactly—and that's partly the joy of art, n'est pas? But it is a memorable piece, and a striking landmark located in Justin Herman Plaza across from the Ferry Building at the Embarcadero.
According to an article about the piece from the UC Davis Web site:
Starting in the 1960s, Arneson and several other California artists abandoned the manufacture of functional wares in favor of using everyday objects to make confrontational — and to some, offensive — statements. The new movement was dubbed "Funk Art," and Arneson is considered the "father of the ceramic Funk movement."
When asked about the Eggheads, Arneson's widow, Sandra Shannonhouse, says, "Bob had been asked by Chancellor Ted Hullar to propose a public work for campus. When the committee wanted to do all five of the proposals, but did not have nearly enough money to pay for them, Bob proposed that he sell them to UC Davis for the cost of making them, with his estate able to edition the pieces and so make other castings. That is why there is a Yin & Yang piece on the Embarcadero in San Francisco."
Remarkable public art, by a remarkable man. Another reason to take a moment and enjoy the little things in this great city.
Photo Credit: Clinton Stark, Canon T2i (of course).