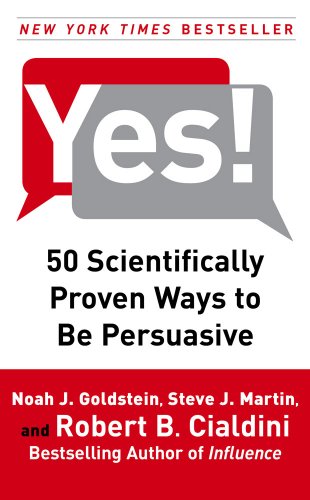 Yes!: 50 Scientifically Proven Ways to Be Persuasive offers insight into research on how people make decisions and provides ways to use these findings in the design of public policy and business initiatives. In some cases, for example in the test of compliance with a hotel's green policy for towel reuse, the authors actually conduct an experiment to see if the general research findings held in a practical application.
In many ways, the book itself is as much a persuasive read as the art of influence it expounds.
The authors, Robert Cialdini, Noah Goldstein and Steve Martin, have cleverly plastered the word "Yes" on the cover of this book. Each chapter is entitled with a provocative question such as, "When is a loser a winner?" and only asks the reader for enough attention to span the 4-5 pages of a chapter.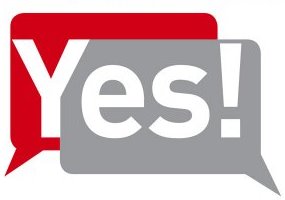 After 50 chapters of tips on how to be more persuasive and the empirical studies to prove it, the epilogue discusses the ethical use of these methods noting that "…when these tools are instead used unethically as weapons of influence—any short-term gains will almost invariably be followed by long-term losses." To illustrate this example, the authors point to a fascinating story that took place during the fuel crisis in the spring of 2000 in the United Kingdom.
I agree with the arguments presented in the epilogue. I am glad the authors noted the limitations of the proceeding 50 ways to be more persuasive. Noting essentially that there is no substitute in the long-term viability and success of a business than creating a quality product or service and delivering value to customers or citizens.
This is even more of an imperative in an era of increasing social media interactions across populations. At one point an unscrupulous business may be able to fool each customer at least once. Now with review sites, blogs and social networks, unethical moves are quickly spread among a community of customers.
One of the most fascinating parts of the book are the letters that readers have written in after attempting to use one of the techniques.
Overall, this latest book by Goldstein, Martin and Cialdini offers practical advice for those in public and private sector on the science of persuasion.