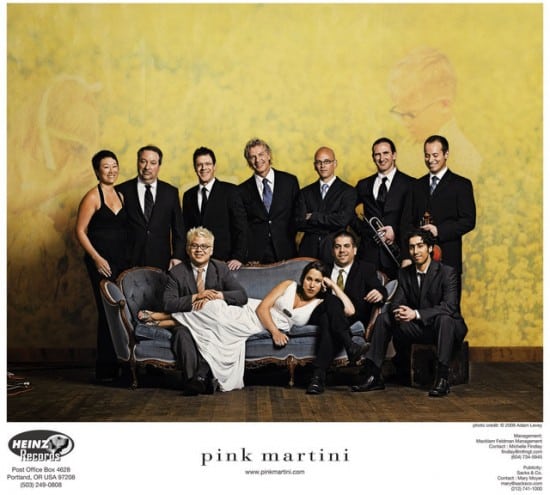 Pink Martini returns to Davies Symphony Hall to perform two special concerts with the San Francisco Symphony led by Assistant Conductor Donato Cabrera at 8:00 p.m. on Tuesday, June 1 and 8:00 p.m. Wednesday, June 2. Joining the ensemble is special guest NPR White House correspondent Ari Shapiro, who sings on two tracks from their latest album Splendor in the Grass.
The Portland, Oregon-based "little orchestra" was created in 1994 by Harvard graduate and classically trained pianist Thomas M. Lauderdale to play at political fundraisers for progressive causes. The 12-member band plays a repertoire that consists of an eclectic blend of 1930's Cuban dance orchestra, classical chamber ensemble, Brazilian street band, and Japanese film noir. The group made its European debut at the Cannes Film Festival and in the years following went on to tour Europe, Turkey, Taiwan, Lebanon, and the United States. Equally at home performing its multilingual repertoire on concert stages and in smoky bars, Pink Martini draws a wildly diverse crowd. The ensemble made its orchestral debut with the Oregon Symphony Orchestra in 1999 and has since then performed with other orchestras across the country including the Los Angeles Philharmonic, the Boston Pops, the National Symphony, and the BBC Concert Orchestra.
Lauderdale reflects on the multicultural makeup of the group which creates the ensemble's unique and diverse sound: "Because the interests of the band are so diverse – two percussionists who spend a lot of time in Brasil; another percussionist who grew up in Peru; a German speaking trombone player who studied with all the brass section of the Chicago Symphony and likes Miles Davis; a singer who studied French and Italian and sings in 15 different languages; a cellist who speaks Mandarin – because of this diversity inside the band, there are endless ideas. On a bad day it can just seem all too dizzying. But hopefully in the larger picture, it is a more accurate representation of America…"
With a total of 4 albums so far, Pink Martini has sold more than 2 million copies worldwide. Their debut album Sympathique received nominations for "Song of the Year" and "Best New Artist" in the 2000 Victoires de la Musique Awards in France. The newest album Splendor in the Grass was released in October 2009. Future recording projects include a symphonic album featuring the Oregon Symphony Orchestra. This past month, the ensemble finished a successful first tour of Asia, and in July, they will embark on a tour of Europe. Pink Martini last performed with the San Francisco Symphony in 2009 to a sold-out audience.
Special guest Ari Shapiro is NPR's White House correspondent and frequent Morning Edition guest host. He has garnered several journalism prizes for his work including the American Bar Association Silver Gavel Award, the Daniel Schorr Journalism Prize, and the Columbia Journalism Review laurel recognition. A friend of Pink Martini, Shapiro was asked to sing on the group's latest album Splendor in the Grass after an impromptu singalong at a dinner party. He made his singing debut with the ensemble at the Hollywood Bowl in September 2009.