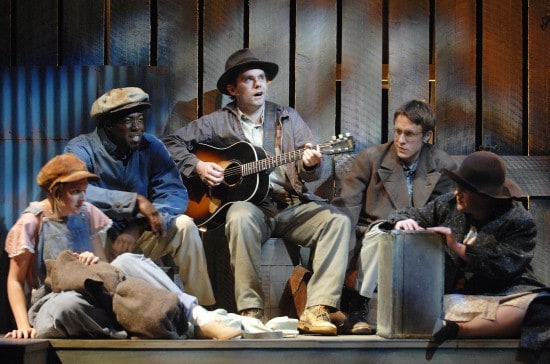 Marin Theatre Company announced it will present a revival of Woody Guthrie's American Song in its Boyer Theatre May 27 through June 20, 2010. Conceived, adapted and directed by Peter Glazer, this musical has been pleasing audiences since its premiere in 1988. It won the Bay Area Critics Circle Award for best musical in its co-production at Berkeley Rep and San Jose Repertory Theatre in 1992.
"MTC is delighted to revive this spectacular musical for Bay Area audiences with an incredible cast of actors and musicians," said Artistic Director Jasson Minadakis. "We've reunited writer/director Peter Glazer and music director Jeff Waxman with their outstanding ensemble from Colorado Shakespeare Festival's 2008 critically acclaimed production. This is a fascinating time to revisit the music and writings of Woody Guthrie. Not since the Great Depression has unemployment, inflation, and economic instability so shaken our country. Combined with the ongoing war, Americans are once again asking who we are as a nation. Now is the perfect time to turn to one of our most patriotic and probing chroniclers to seek inspiration, advice, and hope."
Legendary folk singer Woody Guthrie wrote songs about hard times—the Great Depression, the Dust Bowl, high unemployment, and war. He also sang about the joy of being alive and being an American. Based on Woody Guthrie's extensive writings and songs, this stirring musical follows Guthrie as he rambles coast to coast from California to the New York Islands. It features about two dozen of his most famous songs.
The guitar-strumming, banjo-picking, bass-plucking five actors and three musicians perform songs from the prolific songwriter and troubadour, including Bound for Glory and This Land Is Your Land. Drawing from Woody Guthrie's essays and books, cast members speak through his voice and the voices that inhabited his world—dust-bowl refugees, migrant farm workers, transients, and American families.
Woody Guthrie is well known for his many songs as well as his travels across the country during the Great Depression. He was a figurehead for the folk music movement, inspiring numerous musicians including Bob Dylan, Bruce Springsteen, U2, REM, and Pete Seeger. His music and writings are archived in the Library of Congress.
Playwright and director Peter Glazer has directed many productions of Woody Guthrie's American Song since its inception. Glazer's other work includes O'Carolan's Farewell to Music and the musical Matthew, Margaret, Pat and Kate which MTC produced in 1994. He is a professor at UC Berkeley.
The MTC cast reunites members of the Colorado Shakespeare Festival ensemble—Bay Area actors and musicians Sam Misner and Megan Smith of the band Misner & Smith, along with acting and vocal talents Lisa Asher and Matthew Mueller. Bay Area actor and singer Berwick Haynes joins the company to complete the MTC cast. Three musicians, including Bay Area favorite Tony Marcus of Cats & Jammers and Leftover Dreams, will join them onstage.