Guest post by Jane Lurie.
Our friend Michele is a guardian of all homeless dogs she meets in Loreto. Just before Michele and her family left Loreto to return home to Lake Oswego, Oregon a small dog appeared in our neighborhood. He seemed very frightened but so sweet. He wouldn't come to anyone, just kept moving through the streets always on the alert. Michele befriended him and managed to feed and pet him. Then she had to leave. She left strict instructions to some of us, myself and Karen especially, to continue feeding him and find him a home. This was not going to be an easy task, especially since there were so few homeowners still here in Loreto.
But Cortez was adorable. A young woman who was living at the hotel fell in love with him and began feeding him when she saw him. But she had nowhere for him to live. Another woman, Karina, who was renting one of the Loreto Bay homes, began to feed him and named him Cortez because he spent so much time on the beach by the sea.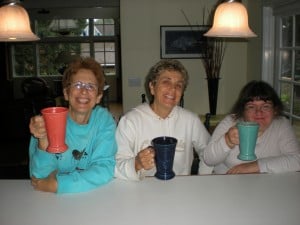 She has a female rescue dog from Cabo who was in heat so she couldn't take Cortez in but he often stayed in the plaza outside her house.
Dean, who was in another home, got to know and hang out with Cortez. But all of this kindness had not gotten him a permanent home and family.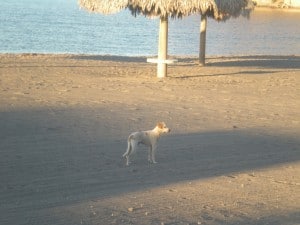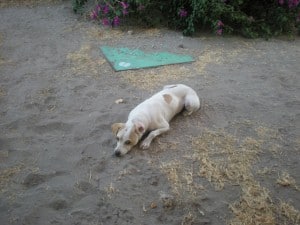 Our friend Dirk actually saw Cortez abandoned.
A car drove slowly past his home into Founders' Neighborhood in Loreto Bay. Then he saw it speeding out with a small dog racing after it. The dog ran as fast as he could and when he couldn't run any more, he sat and stared down the road for a half hour. Then he got up and walked away.
Dean and Karina saw Cortez being attacked by other dogs. He's always been a lover not a fighter. We knew he was in danger of getting hurt badly.
Karina put a sign about Cortez in our local store with a photo. I posted the photo and Cortez's story on Club Loreto Bay. Our friend Cathy Getman, whose husband, Dan, was here co-ordinating some important decisions about the construction of their home,  saw his photo and wrote:
"He's so cute. Has Dan seen him? He owes me an anniversary gift…"
And that was the beginning of Cortez' new life.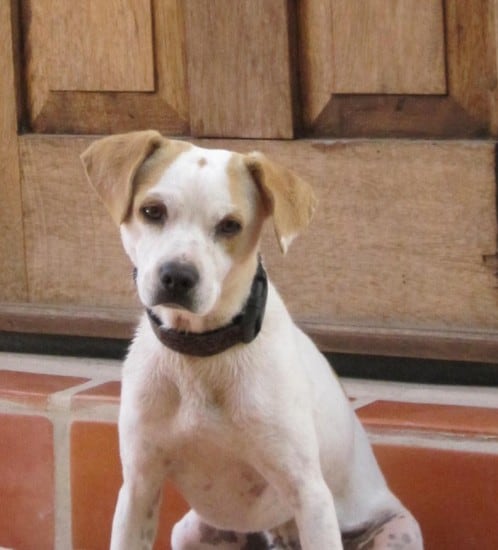 The next day Dan and Chuck and Marsha came to our home and I took them to where I thought Cortez would be…in the plaza outside of Karina's home. He was there sleeping in a corner behind some plants. Chuck sat down several feel away from him. Cortez stared but didn't move. Marsha sat on the steps outside of Karina's place. Cortez got up and went over to her. Marsha began to pet him.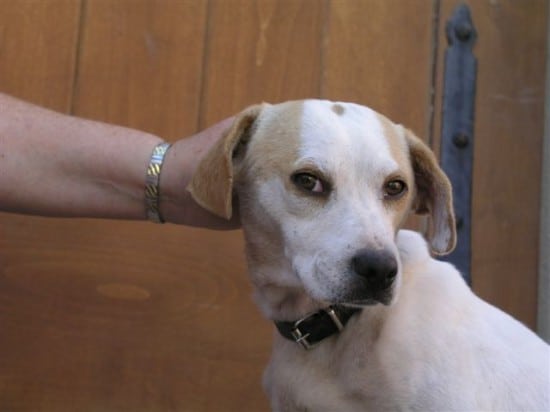 Chuck scooted closer and began to pet him. Then Dan walked over and sat down and began to pet him. I was sitting back at the entrance of the plaza and watching. It was an amazing and heartwarming scene. After a while, Cortez got up and walked back to his corner. Dan got up and walked over to him and picked him up.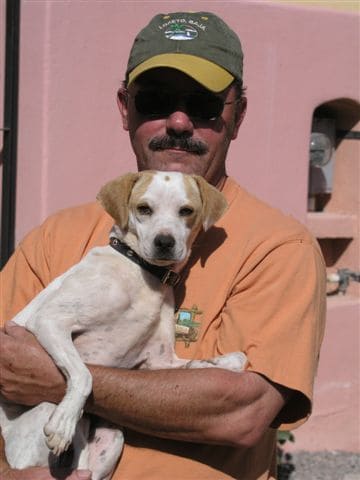 We all came around and pet him. He was still frightened of course but relaxed a bit in Dan's arms. After a while, Dan put Cortez down and he headed towards the beach. Dean, who had a relationship with Cortez, joined us as we walked after him. Marsha and I on one side of the homes, Dean, Dan and Chuck on the other. When Marsha and I met up with them again, Cortez was back in Dan's arms again and Dan's heart was melting (ok Dan, maybe you would phrase it differently but that is what happened). They took him to their truck and headed to town to the vet to get the shots that Cortez would need to get into the US.
When Sharon and I went into town a while later, we saw Chuck sitting outside the vet's store with Cortez on a leash. They walked casually over to us. Cortez was the most relaxed I'd seen him. Apparently he already loved riding in Dan's truck. I posted the photo of Dan holding Cortez on Club Loreto Bay. Cathy wrote "What a couple of cuties!! Thanks Jane and Sharon for putting us together with Cortez! Now I have to go home tonight and warn our 3 kitties that their calm, quiet lives are about to change."
That night Cortez slept in the courtyard of Chuck and Marsha's place outside of Dan's room. Before he knew it, Cortez was in the truck with Dan and Curtis, another friend, heading to his new home and family in the States.
An email from Cathy, "Cortez has immigrated!  The US border officials welcomed him into the US and he is now his first night in Carlsbad. I just came from dinner with our neighbors and Cortez' story has spread around the cul-de-sac. Neighbors and their dogs are eagerly awaiting the arrival tomorrow of Cortez.  He already has a calendar full of play dates and dog-sitter offers, plus treats at each house. What a life he's coming to!"
And an excerpt from Dan:
"Cortez spent the first night of his new country in Carlsbad at the Red Roof Inn.  He had roasted chicken for dinner.  He met several other traveling dogs and got to sniff places where many other traveling dogs had been. He slept well on a rag rug with Jackson's home scent, the same bed he slept on while traveling for two days.

Cortez arrived with full fanfare at the Chatham Pointe cul-de-sac.  He met Callie, Gumby, and CJ, and their people friends.  He saw some strange critters that live in the house with the people, they are furry and speak with a high pitched whine, he thinks they smell odd too.  Maybe tomorrow he will get to meet them closer.

Cortez went to the people store.  He walked along a lagoon and sniffed many strange scents and met many new friends, dog and people type.  When he got back home a gift basket awaited him full of toys, treats and a welcome to the neighborhood card from Callie and Gumby across the street, what nice neighbors."
Cathy and Dan live near us in an area that we love to go to..beautiful lagoons and the Bay. We SKYPED with them today. They went for a 2 hour walk with Cortez. Later they'll go to the vet and then he will meet his feline siblings…should be interesting. Here are some photos with captions that they just emailed me.  Life is good.