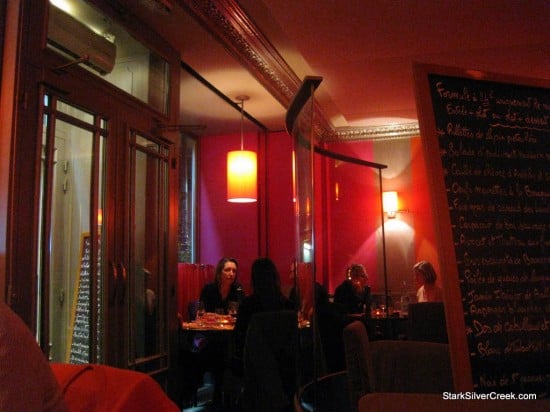 I glance over at the concierge at the cozy hotel I was staying at, my mind racing for the words to express the dinner experience I desired for the evening. I was dining alone tonight.
Some dread this experience of sitting at a table on their own with an empty chair across from them. I have learned to savor these moments of peacefulness. To set the pace of the meal, to quietly consider the various flavors and textures of each bite without the need to simultaneously keep a conversation going.
This evening, I was seeking a place for traditional French cuisine that was warm and casual, not formal and where I could disappear into the ambiance. Finally, I didn't want to deal with hailing a Paris taxi. His recommendation, La Table de Lauriston which was just around the corner, a short stroll.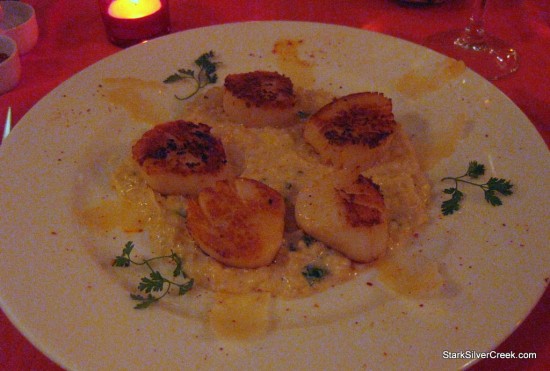 For my main course, I decided to order the Coquilles Saint-Jacques avec risotto reggiano (scallops and risotto). The dish came beautifully prepared. The scallops were tender and sweet. The risotto was just the right texture and full of rich intense flavor which seemed to come from hours of risotto simmering in herbs and broth that was slowly reduced. No short cuts here of over-seasoning with salt in order to increase the intensity of flavors which I find happens all too often.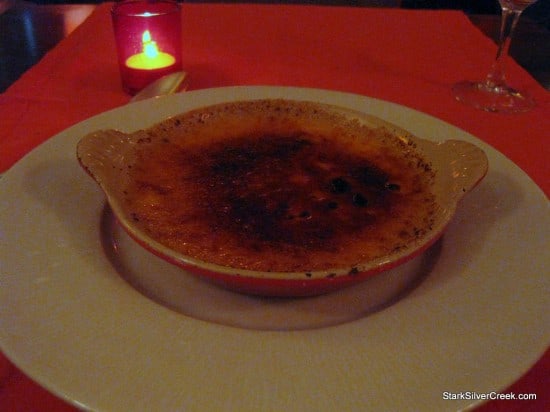 I devoured this dish slowly, enjoying the balance of flavors between the risotto and the scallops.
For dessert, I ordered their crème brûlée which was served unadulterated, just pure classic vanilla. I was a little surprised at how large the portion size was for the dessert. I was almost 1/2 the size of my main dish. Then, I am not one to complain about too much crème brûlée. It was wonderful, I loved the little black specks of vanilla and the custard was just the right consistency and creaminess. My only possible critique was the burnt sugar layer was a little too thick. I enjoy an almost paper thin hard sugar that melts quickly when it hits your tongue. Not something you have to work on like hard candy.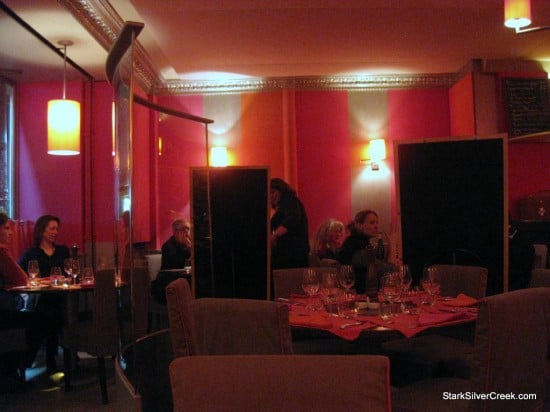 The ambiance was superb. The walls were a rich red and the restaurant was small enough that it was very cozy. The menu comes on large chalkboards which by the middle of my dinner, were numerously scattered all around the restaurant, set on chairs and leaned against the back rest.
There was something magically amusing about it. The blackboards turning the restaurant into a visual maze as glimpses of other guests and waiters could be seen appearing and disappearing between gaps in blackboards.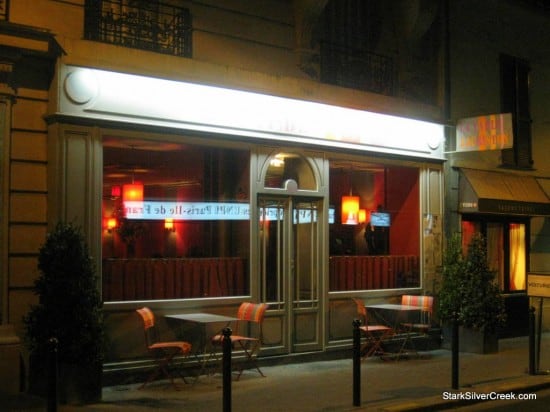 I noticed quite a number of locals at tables which was nice. A red flag at any restaurant is when tourists outnumber local guests. If you are looking for unpretentiously wonderful, classic French cuisine, this is definitely one to put on your list.
La Table de Lauriston
Address: 29 rue de Lauriston, 16th Area Champs Elysées & Western Paris
Phone: 01 47.27.00.07
Website: www.restaurantlatablelauriston.com