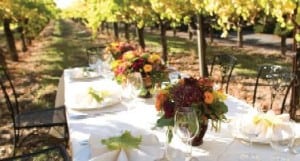 Over 40 wineries will participate in the sixth annual Pinot Family Reunion at the Vintners Inn Event Center and John Ash & Co. on Sunday, July 11, 2010. The wine and food tasting will be at Vintners Inn Event Center from 1 p.m. to 4 p.m. A family style dinner will follow at John Ash & Co. restaurant, adjacent to Vintners Inn Event Center, at 5:00 p.m. Live music will be provided by the Pat Jordan Band. A portion of the proceeds will benefit the Sutter North Bay Women's Health Center.
The tasting and three-course dinner will be paired with some of the area's top Pinot varietals from vintners such as Balletto, Buena Vista, Clouds Rest, Cobb, Derbes Wines, Emeritus, Everett Ridge Winery, Ferrari-Carano, Gary Farrell, Gracianna, Graton Ridge Cellars, Harmonique, Hartford Family Winery, Holdredge Wines, Hop Kiln Winery, Hunter/Chausseur, Iron Horse Vineyards, John Tyler, Kenwood Vineyards, Ketcham Estate, Kokomo, Kosta Browne, La Crema Winery, Lazy Creek Vineyards, MacPhail, Marimar Torres, Martin Ray, Martinelli Winery, Moshin Vineyards, Mueller, Orogeny, Paradise Ridge, Paul Hobbs, Pillow Road, Rodney Strong, Roederer, Roessler Cellars, Russian Hill, Sapphire Hill, Skewis Wines, Small Vines Wines, Suacci Carciere, to name a few.
Local food purveyors will feature delectable items at the afternoon tasting such as Portobello Fries with Lemon Aioli, Lamb Meatloaf Sliders with Roasted Garlic and Rosemary, Chilled Minted Pea Soup Shooters, Salmon Cakes with Pinot Mayonnaise, Apple Wood Smoked Baby Back Ribs with BBQ Sauce, and Grilled Marinated Chicken Skewers with Peanut Sauce.
John Ash & Co. Executive Chef Tom Schmidt has created a special menu for the family style dinner to highlight each wine, such as Prawns with Chili Butter over Garden Arugula, Salad Nicoise with Seared Ahi Tuna, Pan Roasted Breast of Sonoma County Liberty Duck with Cherry Compote, Grilled Sonoma Lamb Chops with Sweet Onions Braised in Pinot Noir, Ratatouille Strudel, Rigatoni Au Gratin with Porcini Mushrooms, Redwood Hills Goat Cheese with Thyme and Honey, Dry Creek Peach Cobbler, Pinot Poached Estate Figs, and Lemon Pound Cake.