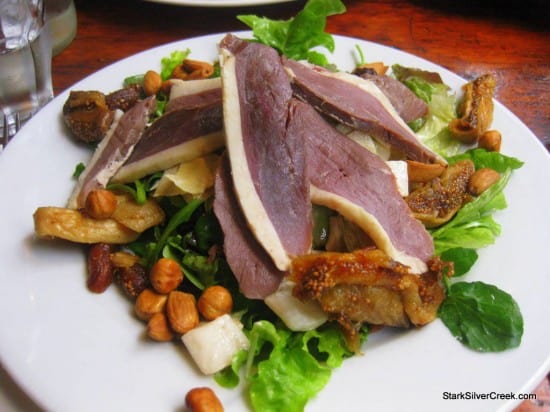 One of the most memorable and favorite meals I had on a recent trip to Paris was at Café des Musées.
A local colleague of mine offers to take me around Paris on a Sunday. After meeting in the morning and strolling around the streets of Paris while I try to capture inspirations for my next oil painting on my digital camera, we both work up an appetite.
Cyril R— initially suggests we stop by an Italian restaurant which is quite popular these days. However, I want to taste more French cooking. With that request, he suggests we drop into a little cafe that he loves and will give me an authentic flavor of a French bistro. I was completely supportive of this idea.
On first glance Café des Musées is absolutely charming with its brick red and wood exterior and an awning over the front door that just beckoned hungry travels into its cozy interior.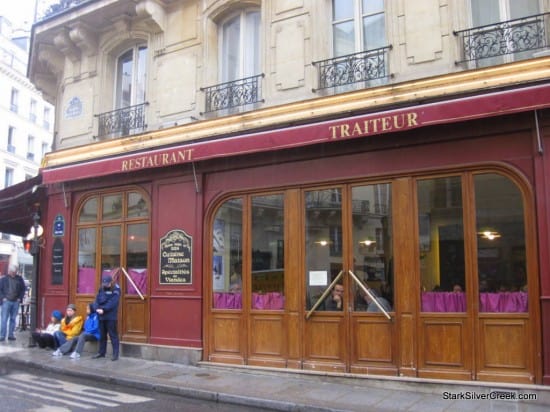 The inside was cleanly decorated with simple wood chairs and white cloth napkins. The element that really creates the authenticity is that every wait staff is in "French bistro-style" uniform: pressed white shirt and crisp apron. Cyril notes that many cafes in Paris do not have wait staff in this type of attire anymore and that it really adds to the authenticity and charm of the cafe. I agree wholeheartedly.
The breakfast and lunch menu offers a lot of choice spanning light pastries all the way to steak and fries. Cyril orders a steak. I, looking for adventure, settle on chef François Chenel's smoked duck salad creation which sounded delightful on the menu in both French and my cobbled up English translation.
The smoked duck salad when it arrives was a masterpiece fit for the Louvre. My eyes dance across the tender thinly-sliced smoked duck that drapes over chunks of flavorful cheeses, the dried figs imagining how concentrated their sweetness must be and I could almost taste the robust earthiness of the toasted hazelnuts.
My eyes and nose does not deceive. I decide my first bite would be a taste of the smoked duck. It was some of the best smoked meat I've ever had. It is tender and rich with all the characteristics of duck. Any seasoning just enhances the essence of the duck. I love the texture blending both the chewy firmness of the duck meat with the buttery richness of the duck fat.
The dried figs has a sweetness that slowly releases as one chews on its preserved flesh. The internal seedy texture is elevated through the drying process and amuses me.
The hazelnuts are perfectly toasted and incredibly fresh. It has such powerful aromas to rival that of freshly roasted espresso beans.
The cheese is creamy and pulled together the other dominant ingredients of smoked duck, dried figs and roasted hazelnuts.
Separately, each ingredient is perfectly tuned. Together I am in french cuisine heaven. Little conversation happens during the lunch as I devour the dish.
If you are in Paris, you must try this creation by chef François Chenel.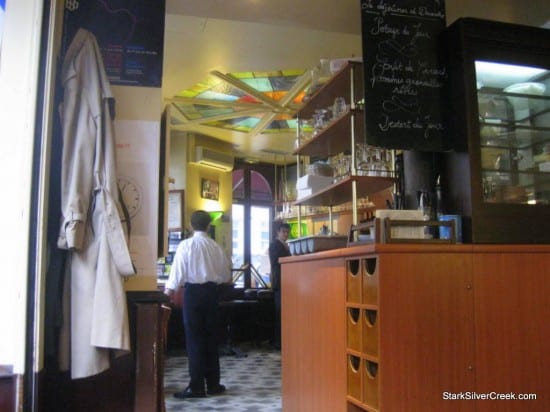 Cyril enjoys his steak and fries lunch as well, polishing off the entire steak. Sometimes, I get "order-envy" at a restaurant. This is where I sit during the entire meal with a little itch of curiosity or remorse that I didn't order the meal someone else at the table requested.
At this visit to Café des Musées there is none of that. Instead I cradle my smoke duck salad, taking almost twice as long as it took Cyril to consume his steak.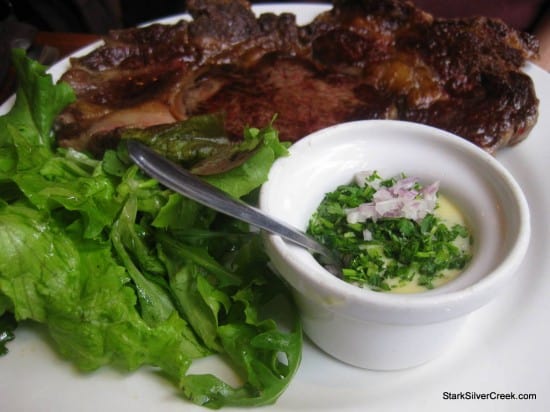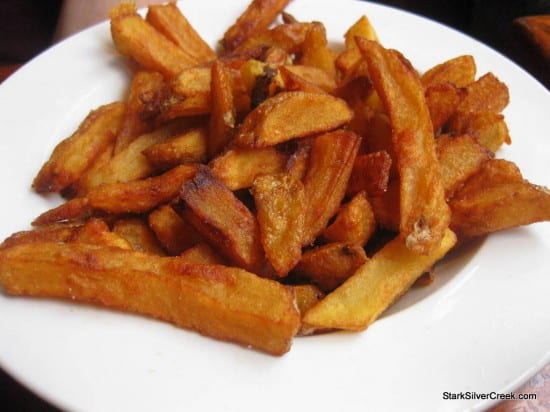 At the end of the meal, I mischievously sneak a bundle wrapped in napkins from my purse. "Now for dessert!" I proclaim. I carefully unwrapp the napkin to reveal a few chocolate truffles I created at a chocolate-making class the day prior.
It is the perfect way to end the perfect meal in Paris.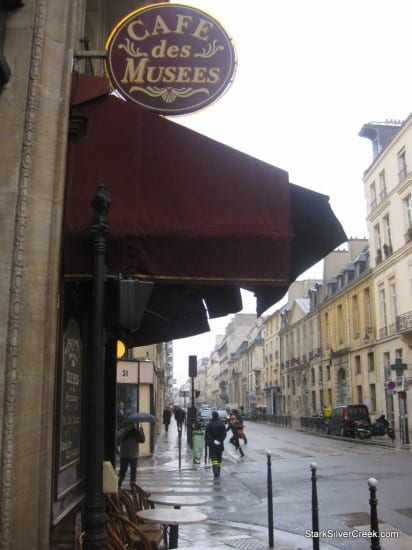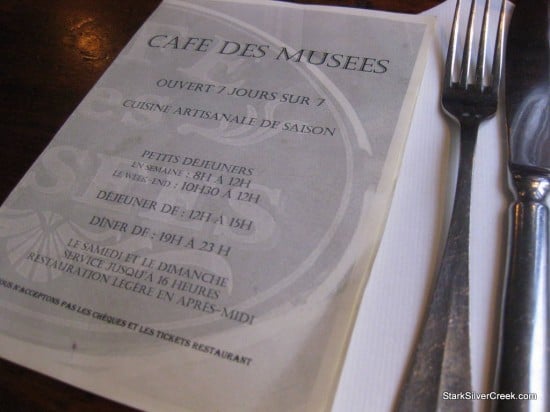 Café des Musées
49 rue de Turenne (3rd), Paris
Tel: +33 (0)1 42 72 96 17