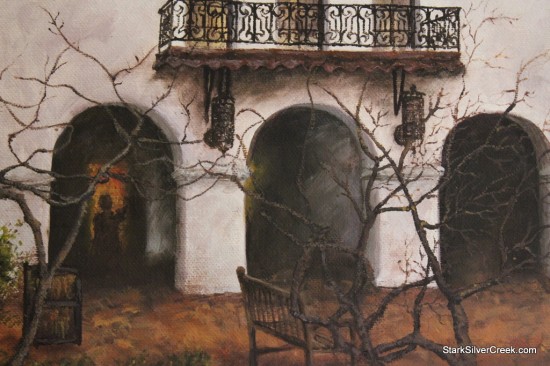 This week I wasn't able to make it to art class since I was in Napa picking up some wine and touring some wineries. However, since I have my art studio set up, I have been following Lee's direction and adding the smaller branches to the trees. I don't plan to make the branches as dense as they are in the photo I took, but I do want to fill in with some smaller branches to give the feeling of spring being just around the corner.
I added the branch by mixing burnt umber with purple and then creating different shades of this foundation color with some yellow ochre, some white or little hints of red. The goal is to give the trees dimension with hints of the texture of bark and the different colors as light bounces off the branches which face all different directions. I use a script brush to pick up little bits of different paints, being careful not to cover a place I've painted all over again but instead, selectively place a little flick of color here, a dab of color there.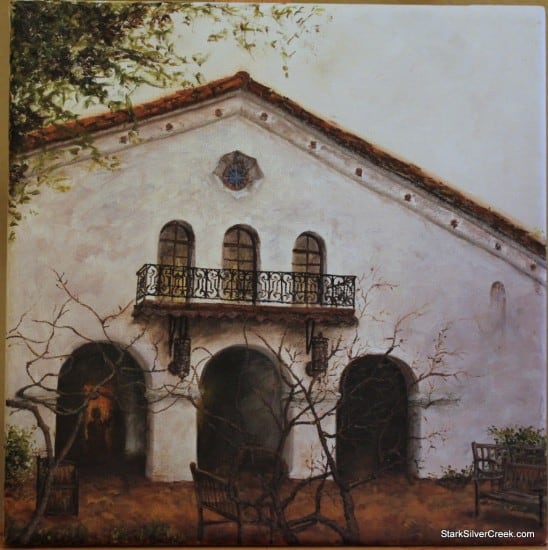 I did visit an art gallery in San Francisco this weekend to look at paintings by different artists. I enjoy getting really close to the paintings and study the brush strokes, the use of color. It is amazing the different styles each artist has at a professional caliber.
I spoke to the women behind the desk at the gallery about the market for art currently. She noted that she noticed the economic downturn in the market at her gallery around December 2008. It was as if someone turned the lights off. November 2008 was fine. Come December and it was quiet as a mouse. I asked her if the market was getting better. She noted people are doing better, but there is still a lot of uncertainty in the future so the folks that are purchasing artwork are those that have wanted a piece from a particular artist their entire lives. These buyers are taking the opportunity in the downturn to pick up a piece at a significant discount. There is talks she noted in the industry of moving to mainly a commission model.
I find the art market very fascinating. Taking something so subjective and assigning a quantitative value to it.