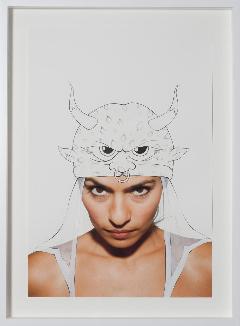 Gallery Paule Anglim is presenting an exhibition of new work by Iranian-American artist, Ala Ebtekar. From a broad practice rich with symbolism (embracing drawing, painting, sculpture, fashion, and photography), the artist will present works on paper and paintings, including paintings on photographs, paintings on book pages, and sculptural pieces.
According to the gallery, Ebtekar's work is situated at the crossroads of history and mythology. It inhabits a realm where past and present collide in a perpetual dance of deconstructed and reconstructed time and space. Equally informed by ancient Persian epics and contemporary popular culture, by hip hop, graffiti, and comic books as well as Iranian coffeehouse painting, Ebtekar generates a visual language that expands the circle of cultural conversation.
Born to Iranian parents in Berkeley, California, Ebtekar discovered fine art in his late teens after spending much of his formative years immersed in the music and imagery of hip-hop. He started deejaying at 12 years old (and went on air at age 13 on KALX Berkeley) before taking to the streets with spray paint, tagging local walls with his name in Farsi. Then at 19 he moved to Tehran to study miniature painting; however, he ended up preferring the mid-20th century style of "coffeehouse painting" (qahveh khanehei)-large oils that illustrate oral narratives instead of the more highbrow classical written texts from which Persian miniatures are usually drawn.
Out of these experiences Ebtekar has forged a cosmopolitan consciousness that combines the ancient and the contemporary, American and Iranian, the sacred and the commercial. Ebtekar has shown at galleries in Dubai, London, New York, Los Angeles, and San Francisco, among others. Gallery Paule Anglim previously mounted a solo show for Ebtekar in 2007.
In a recent his 2009 solo exhibition in Dubai entitled, "1388," Ebtekar featured multimedia works of Iranian women with helmets and armor painted over their hijabs, transforming them into superhero-like warriors, emanating strength, resolve, and determination. These works simultaneously hinted at ancient Persian epics and the most recent call for social justice by Iran's youth – a movement led quite visibly by young Iranian women.
Ebtekar is also well-known for an earlier series of intricate paintings on the pages of religious manuscripts, on which he situated scenes of epic battles, of warriors donning helmeted armor and wielding medieval swords and modern-day bandoleers. These works will also be on display at Gallery Paule Anglim. Indeed a theme that runs throughout Ebtekar's work is the synthesis of past and present in ways which may occasionally jar the viewer.