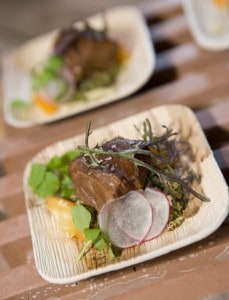 Meals on Wheels of San Francisco today announced that with the help of Northern California's illustrious superstars of food and wine, they raised a record-breaking $1.2 million at its 23rd Annual Star Chefs & Vintners Gala, which took place Sunday night at Fort Mason's Festival Pavilion. The final tally was the most money raised in the 23 year history of the Gala and is enough money to provide approximately 300,000 meals to homebound seniors.
"We are extremely fortunate to have such loyal and big-hearted donors who, year after year, help us raise the funds needed to provide food and supportive services to seniors who need assistance in order to remain independent and age in place," said Ashley C. McCumber, Executive Director of Meals On Wheels of San Francisco. "Because of their generosity, and the generosity of the world-class chefs and wineries, we are able to continue our mission to ensure that no senior in San Francisco is without a healthy meal."
The live auction brought in a total of $258,000 with several priceless items-including a luxury penthouse in Sun Valley, Idaho featuring the culinary creations of Nancy Oakes, a ten-day Mediterranean Silversea Cruise and several private dinners with celebrity chefs – each going for five figures. The climax of the evening was Fund-A-Route, in which guests pledged $317,000 towards funding a meal delivery route in San Francisco for the next year. The live auction and Fund-A-Route both brought in record-breaking numbers.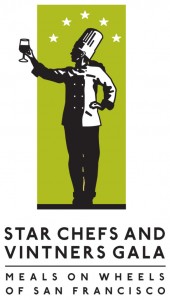 More than 950 guests attended this year's gala, dining on the culinary creations of over 70 of Northern California's top chefs including Gala Chef Chairwoman Nancy Oakes (Boulevard), Chris Cosentino (Incanto), Mourad Lahlou (Aziza), Charles Phan (The Slanted Door), Mark Dommen (One Market), Chris L'Hommedieu (MICHAEL MINA), Richard Reddington (REDD), Robert Leva (Salt House), Mark Sullivan (Spruce) and Parke Ulrich (Waterbar). The mouth-watering food was accompanied by wines from 75 California vintners, including Duckhorn Vineyards, Hanzell Vineyards, Radio-Coteau Wine Cellars, Stag's Leap Wine Cellars and Vineyard 29 as well as specialty cocktails created by celebrity bartenders Scott Baird & Aaron Smith(15 Romolo), Daniel Hyatt (The Alembic Bar), Scott Beattie, H. Joseph Ehrmann & Marco Dionysos(HMS Cocktails), Brooke Arthur (Prospect)and Jon Gasparini (Rye).
Founded in 1970, Meals On Wheels of San Francisco is committed to the belief that all seniors have the right to live independently with dignity and respect for as long as it is safely possible. Its mission is to provide isolated homebound seniors in San Francisco with nutritious meals, daily human contact and supportive services to prevent their premature institutionalization.