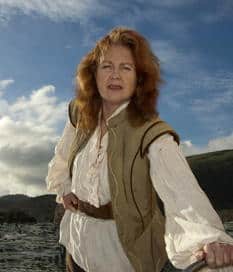 EXIT Theatre, San Francisco's downtown indie home for new and alternative performance, has announced that A Most Notorious Woman by Irish playwright Maggie Cronin is coming to the stage this summer. The one-woman show features Christina Augello as the Irish pirate queen Grace O'Malley. Augello is the Artistic Director of EXIT Theatre, and the play launches the EXIT Theatreplex's fifth performance space, the newly created Studio Theatre.
A Most Notorious Woman is based on the exploits of the 16th century Gaelic pirate queen Grace "Grania" O'Malley, with Christina Augello as the woman who defied tradition to become a feminist icon. Grace "Grania" O'Malley has been all things to all people: "cut-throat pirate…hard-nosed businesswoman…barbarian…symbol of national defiance…woman in love…romantic heroine…" all are revealed in this "absorbing and multi-layered portrait of a most bewitching and infuriating historical figure."
Grania's fervent love of the sea and her passion for adventure drove most to say she had indeed "impudently stepped o'er the bounds of womanhood." As tribal chieftain, her fierce loyalty to an Ireland soon to be lost forever caused the English to fear her and Elizabeth I to confront her. Well into her 70's she continued to courageously lead and aid the Irish rebellions against the English invaders. "Entertaining and thought-provoking", Ms. Cronin's solo script captures the very texture of the woman, the time and the country.
A Most Notorious Woman was originally scheduled as a part of EXIT Theatre's DIVAfest in April, but was postponed due to an emergency in Ms. Augello's family.
Most people know Christina Augello as the person who, along with Managing Director Richard Livingston, runs EXIT Theatre. She has long experience as an actor, including creating the roles of Boxcar Bertha and Baroness Elsa von Freytag Loringhoven in Kerry Reid's Last of the Red Hot Dadas. Augello has toured both of these plays on the international Fringe Festival circuit.