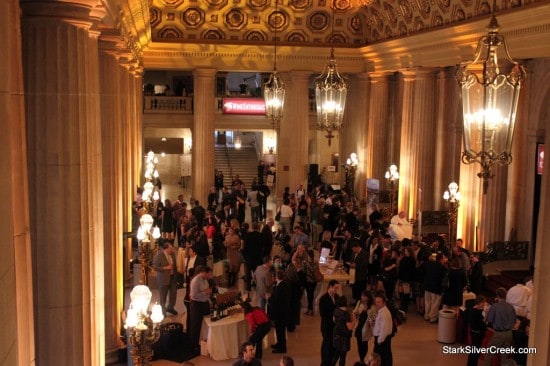 One evening out of every year, San Francisco's War Memorial Opera House lights up with 'Toast of the Town', a gala showcasing local and international wines and some of the Bay Area's most popular and hip restaurants. This year was no exception, wines were pouring and tasty gourmet morsels were conjured up on four levels of the historic Opera House. It was both a way to enjoy the beautiful stately building and to entertain the senses.
One of the special events this year was a private tasting of the 2006 Cardinale Cabernet Sauvignon, Napa Valley which was awarded 100 points by Wine Enthusiast. There were several seatings for this event which took place on the second floor. I received an invitation to the 7 pm seating which was perfect, as by then, I had thoroughly enjoyed the VIP portion of the evening.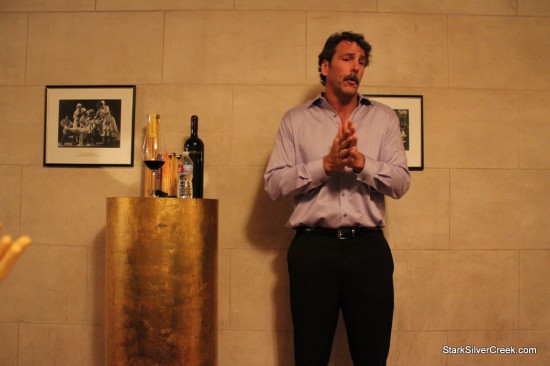 Chris Carpenter, the wine maker, was on hand to present the wine and describe his philosophy of wine making. The Cardinale is actually a blend of six different vineyards: Veeder Peak Vineyard (38.1%), Keyes Vineyard (19%), Clem Cardinalli Vineyard (17.4%), Spring Mountain (10.6%), To Kalon Vineyard (7.5%) and Taylor Vineyard (7.4%). Chris explained how he thought of each vineyard as an instrument in his symphony, each adding different characteristics to the wine he envisions.
I enjoyed how down to earth he was, no pretension, just the focused goal of making something he is proud of.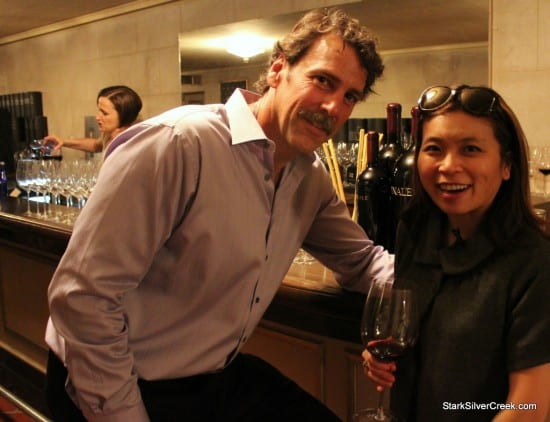 The food this year was delicious as usual, albeit a bit unimaginative. Many chefs had conjured up tasty morsels that involved some meat, fish or vegetarian mixture place on a thin piece of toast. It was a green design in that you could grab a morsel without having to place it on a plastic disposable plate. However, from a variety perspective, it became somewhat commonplace.
Some creative standouts were present. These included the dish from Girl & the Fig restaurant (Sonoma) which had create a duck confit creation on a piece of fig cake. It was salty, then sweet…it had a long enjoyable finish.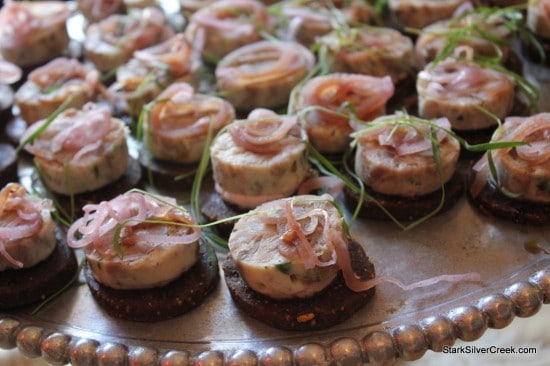 Another was Cliff House's (San Francisco) Butterscotch Pots de Creme which were to die for. They have them on their main menu as a full-sized dessert. On Sunday's when they have brunch, they serve them as they did at Toast of the Town, in little egg shells. Yum!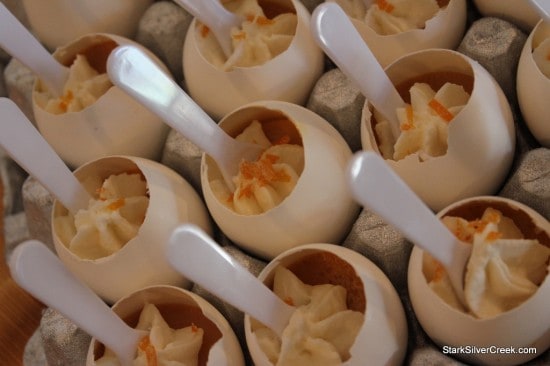 Near the end of the evening, I tasted a bit of heaven in the form of the ultimate comfort food by the Opera House restaurant. It was a small grilled cheese and bacon jam sandwich paired with a piping hot cream soup. It was delicious and a wonderful way to settle a stomach that was a little in shock from so many different wines and little gourmet bites.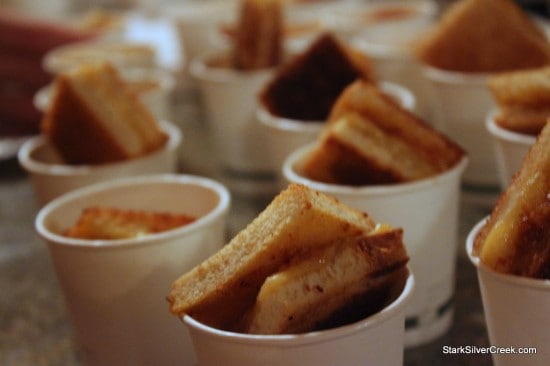 Oh, and how can I forget about First Crush Restaurant Wine Bar & Lounge's Peanut Butter Tart with Graham Cracker Crust and Chocolate Ganache. It was like a Reese's Peanut Butter Cup on steroids.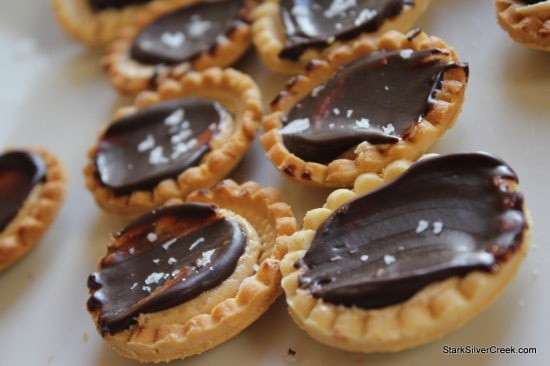 I did notice how long some of the names of the dishes were. It made pronouncing them into the video camera for me a challenge. At times, I just asked the chef to describe it while I did what I do best, and tasted it.
Here's a toast to all the chefs that survived my banter and the camera during the evening!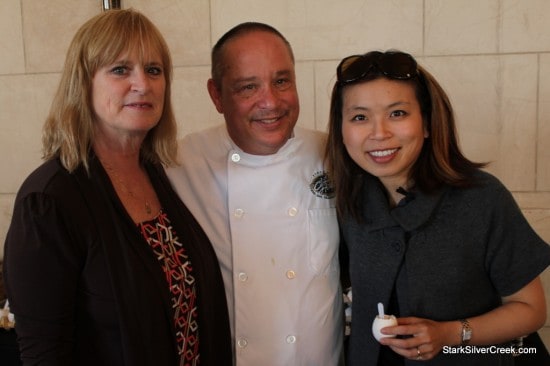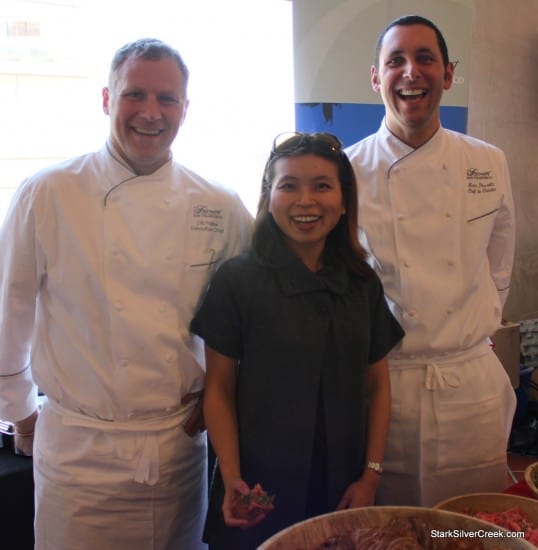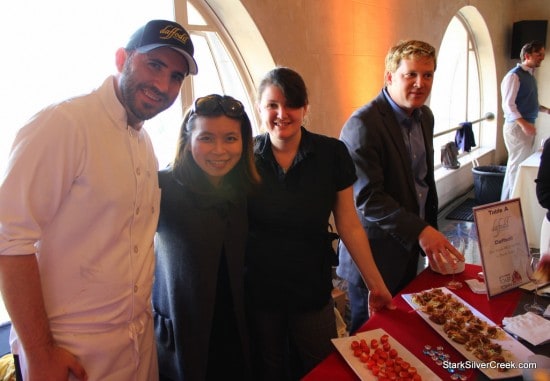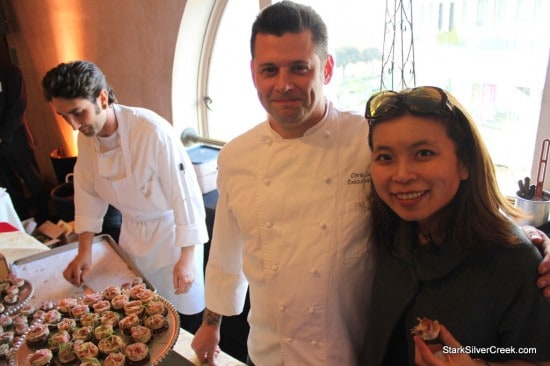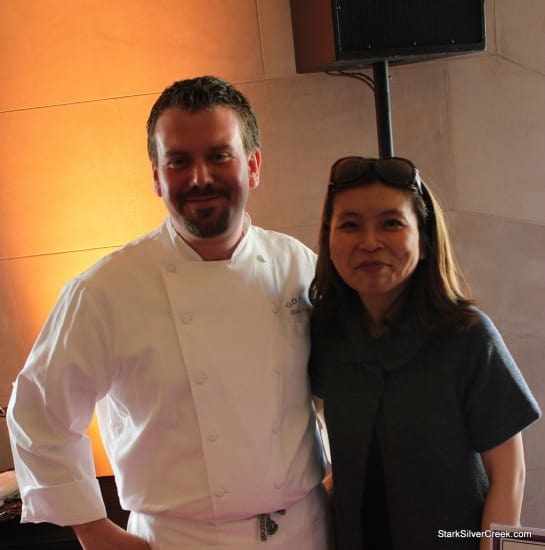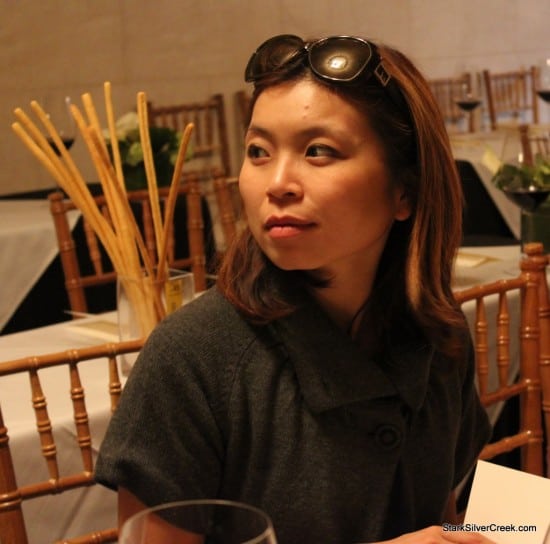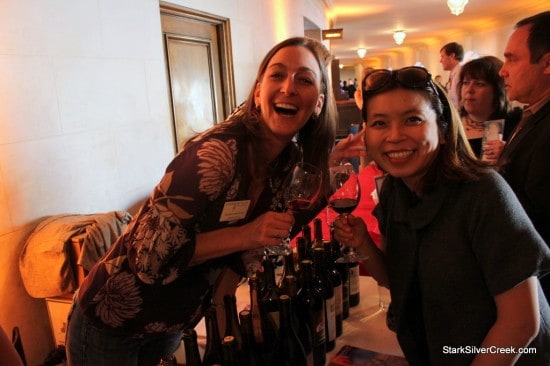 Amidst the festivities, there was a silent auction for the San Francisco food bank. This is an annual tradition for Toast of the Town.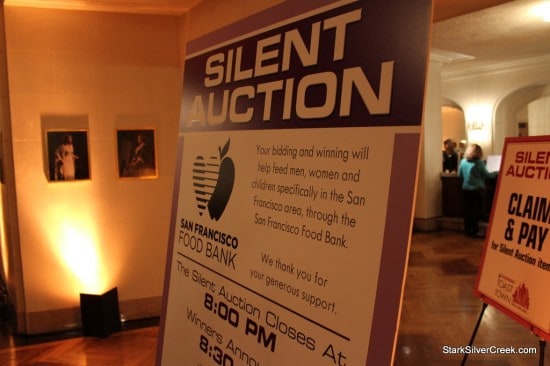 We'll take you around on the evening in an exclusive video of the 2010 Toast of the Town. Stay tuned. Until then, happy sipping!