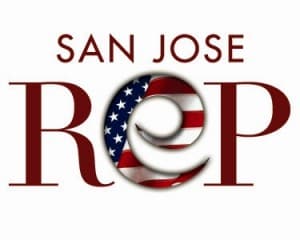 San Jose Repertory Theatre today announced that The Flying Karamazov Brothers have been added to their 30th Anniversary Season. The Brothers bring their latest creation, 4PLAY, a ground-breaking blend of nouveau cirque, comedy, theatre, music and, of course, juggling to San Jose. The off-Broadway, limited engagement will run from November 10 to November 14, 2010.
"It's such a joy to be able to bring the antics of The Flying Karamazov Brothers to our audience, and back to the Bay Area where they started. I know the four brothers have many fans in this region that haven't been able to see them do one of their full shows for a few years now," says Artistic Director Rick Lombardo. "I saw 4PLAY recently off-Broadway and it was a dizzying and delightful evening of comedy, music, and world class juggling. I hope fans will bring the hardest things imaginable for Dimitri to juggle during the challenge portion – although, I think chain saws are off-limits!".
The Flying Karamazov Brothers were conceived in the fall of 1972 and born April 23, 1973 at a Renaissance Faire in California. They went on to perform in theaters around the world, including the West End in London. The Brothers won an Obie award in 1980 and appeared in the film The Jewel of the Nile, the sequel to Romancing the Stone. They also appeared as the Flying Sandos Brothers in an episode of Seinfeld entitled "The Friars Club." Over the years, they have shared the stage and screen with many entertainers including Frank Sinatra, Placido Domingo, The Grateful Dead, The Who, Dolly Parton, Robin Williams, Patrick Dempsey, Danny DeVito, Michael Douglas, Kathleen Turner, Ken Kesey, Allen Ginsberg, Kenny Rogers, Los Lobos, The Smothers Brothers, Click and Clack the Tappett Brothers, Joyce Brothers and many, many, more.