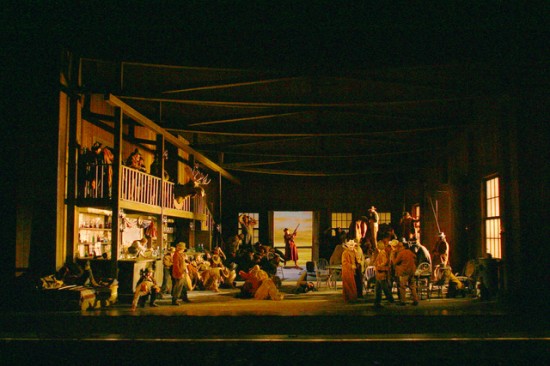 This summer, San Francisco Opera celebrates the 100th anniversary of Giacomo Puccini's Wild-West opera La Fanciulla del West (The Girl of the Golden West) with the premiere of a new co-production with Italy's Fondazione Teatro Massimo di Palermo and Belgium's Opéra Royal de Wallonie. These performances will feature soprano Deborah Voigt in her role debut as Minnie; the San Francisco Opera debut of tenor Salvatore Licitra in his role debut as the bandit Dick Johnson; and baritone Roberto Frontali as Sheriff Jack Rance. The San Francisco Opera Orchestra and Chorus will be conducted by San Francisco Opera Music Director Nicola Luisotti, and Lorenzo Mariani makes his Company debut directing this new production. The creative team also includes scenic designer Maurizio Balò, costume designer Gabriel Berry and lighting designer Duane Schuler. La Fanciulla del West is presented in eight performances from June 9–July 2. San Francisco Opera's complete 2010 Summer Season runs June 5–July 2 at the historic War Memorial Opera House and also features Charles François Gounod's Faust and Richard Wagner's Die Walküre.
This new production of La Fanciulla del West marks the first collaboration between San Francisco Opera and Palermo's Teatro Massimo, which will present the opera in December 2010 with Salvatore Licitra and Roberto Frontali reprising their roles. The sets, designed by Maurizio Balò and constructed in Sicily, are currently being shipped to San Francisco via New York City. Lorenzo Mariani, who directs this new production both in its San Francisco premiere and in later performances in Palermo, serves as artistic director of Teatro Massimo.
San Francisco Opera is leading the way as the first North American opera company to present La Fanciulla del West in its centennial year. Future 2010–11 productions at the Metropolitan Opera (December 2010) and Lyric Opera of Chicago (January 2011) will also star soprano Deborah Voigt as the iconic character Minnie. Maestro Nicola Luisotti, who will be on the podium for seven of San Francisco Opera's Summer 2010 performances, will also conduct the work at the Metropolitan Opera, including a performance on December 10, 2010—the exact centennial of the day the work received its world premiere at the Met, conducted by the legendary Arturo Toscanini.
Presenting this seldom-performed opera, last seen at San Francisco Opera in 1979, is part of San Francisco Opera General Director David Gockley's ongoing initiative to present Puccini's lesser-known operatic gems. Other recent San Francisco Opera presentations of obscure Puccini works include 2007's La Rondine starring Angela Gheorgiu and 2009's complete production of Il Trittico starring Patricia Racette. "It has long been a desire of mine to shine light on some of Puccini's rarely-performed operas. I am very happy to be partnering with Teatro Massimo and Royal Opera of Wallonia to bring La Fanciulla del West to San Francisco Opera for the first time in three decades and to present this work with the masterful Nicola Luisotti on the podium."
A love triangle set during the California Gold Rush, La Fanciulla del West returns to San Francisco for the first time in three decades in celebration of its centennial year. Based on the play The Girl of the Golden West by San Francisco native David Belasco, the libretto for Puccini's opera was written by Guelfo Civinini and Carol Zangarini. The son of a miner and the author of the play that inspired another of Puccini's most popular operas (Madama Butterfly), Belasco captures the spirit of Gold Rush–era California complete with a Wild-West saloon, a high-stakes poker game, a Wells Fargo agent and a beautiful, pistol-packing barkeep named Minnie. The author described his play as "a drama of love against a dark and vast background of primitive characters and untrammeled nature."
Among his many musical compositions, Giacomo Puccini considered La Fanciulla del West to be the best opera he ever wrote. While watching a performance of Belasco's play in New York City, Puccini was struck with compassion for the play's central character, Minnie, and decided that she would be the subject of his next opera. He later explained, "I found a heroine who is very naïve and refreshing. I find truth and sincerity in this American drama." Despite the fact that she is a gun-toting, poker-playing barkeep, Minnie's resilience and her quintessential heart of gold represents the classic American, and specifically Californian, spirit. This character touched Puccini in a way that inspired him to "write music that I feel sure reflects the spirit of the American people and particularly the strong vigorous nature of the West."