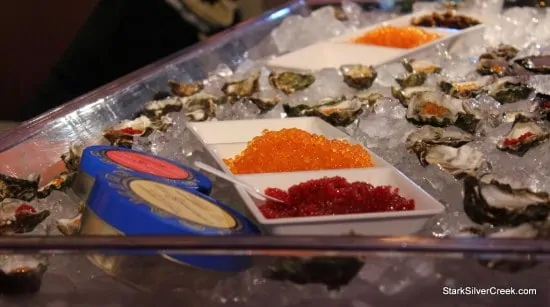 The rain was pelting down outside. Within the Pebble Beach Food & Wine Grand Tasting Tent the only evidence was a large cylindrical canister where everyone could place their dripping umbrellas before collecting a wine glass and crossing the lobby into the first of two large tents bursting with over 200 prestigious wineries and incredible edible creations that would get any foodie salivating.
Although this is only the third annual event at Pebble Beach, the event organizers and participants put on a spectacular experience where every desire for food and wine was amused and granted.
While I was enjoying a wonderfully savory piece of grilled lamb chop and sipping on a Pinot, a woman who had come all the way from Arizona to this event noted that her husband has his annual golf event and this was her's. I chuckled thinking that with Pebble Beach Golf Links in the same venue, and fabulous wine and food after an event, he was surely not complaining either!
Between sips of fabulous wines from the west coast wineries here in the US and those from Europe, I was able to sample at least a bite of every creations under the two big white tents.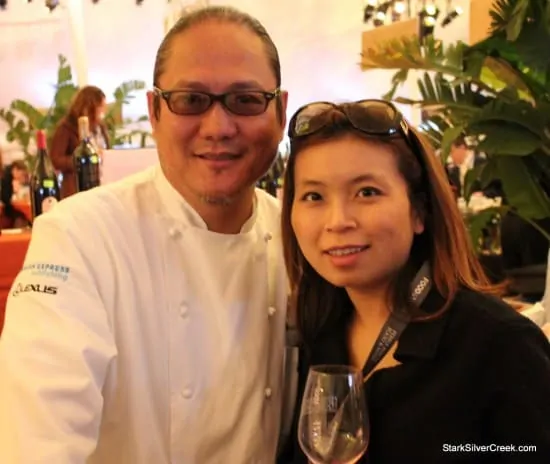 I enjoyed the experience speaking to the chefs who were present to talk about what they created for the event and why. The highlight for me was meeting Chef Morimoto who I spotted standing over a large wooden bowl creating his sample, pork with red miso. It was a very simple dish, however it exploded in the mouth with such intense, rich flavor.
My favorites of the day were:
Chef Morimoto's pork and red miso dish which showed how less can truly be more. I loved the intensity of flavors and everything on the plate and true purpose. No gimmicky embellishments, the tastes spoke for themselves.
The simple grilled cheese sandwich created by Bunk Sandwiches of Portland with Tillamook cheese which reminded me of how delicious simple comfort food can truly be.
Chef Anastasia Simpson's chocolate creation which showed me why even after so many chocolate desserts created, her's was hardly a cliché