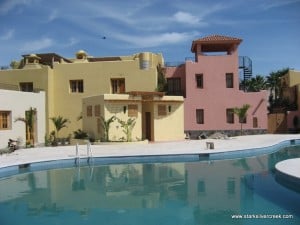 One of the challenges of owning a vacation property is maintaining or renting it when you're not enjoying a getaway. That can be even more true when it's located in Baja, California with its rugged weather and terrain.
Loni, on her last trip to Loreto, sat down with Rodolfo, one of the founders of Bahia Management to get to know him better and discuss their property management services for the Loreto Bay community.
She also presented a 2010 Loreto Calendar (whose net proceeds went to the Internado School in Loreto) for his contributions to the community and for coordinating the interview with Yuan Yee Cunningham, mayor of Loreto.
Soak in some virtual Baja sun as you watch this interview!