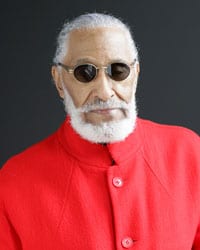 This just in, and great news for fans of Jazz! Sonny Rollins, a "titan of tenor saxophone" (The New York Times), will return to Cal Performances' Zellerbach Hall on Thursday, May 13 at 8:00 p.m.
As part of his 80th birthday tour, which includes performances around the world, Rollins will perform selections from his extensive original repertoire with fellow musicians Bobby Broom (guitar), Kobie Watkins (drums), Victor See-Yuen (percussion) and Bob Cranshaw (bass), his longtime collaborator who performed on Rollins's seminal 1962 album, The Bridge. Despite decades of musicianship, Rollins has never considered himself "a finished musician. I'm always practicing, composing, developing. It's an open sky" (Detroit News). Nonetheless, Rollins has won numerous accolades, recently becoming the first jazz artist to win the 2010 Edward MacDowell Medal given for lifetime achievement. The Berkeley program will be announced from the stage.
Born Theodore Walter Rollins to parents who were native to the Virgin Islands, Sonny Rollins began to play tenor saxophone at age 16, inspired by pioneering tenor saxophonist Coleman Hawkins. Growing up in Harlem, Rollins performed with many talented peers who later became acclaimed golden-era jazz musicians, including Jackie McLean, Kenny Drew and Arthur Taylor, though he was the first of his contemporaries to record, at age 19. Early in his career, he performed in the notable Clifford Brown-Max Roach Quintet before leading his own bands. His first partnership with a recording label, Prestige, yielded such classic albums as Saxophone Colossus and Tenor Madness. By the late 1950s, he had gathered a reputation as one of the finest tenor saxophonists in jazz.
In 1959, at the pinnacle of his success, Rollins withdrew from the music scene, taking the first of his famous sabbaticals from music, from which he emerged with an expanded style. During this two-year break, he could frequently be seen and heard practicing on the Williamsburg Bridge. When he returned to performing, Rollins he recorded a series of live concerts featuring his newly expanded style. A second hiatus, in 1966, during which he studied Zen Buddhism in Japan and yoga in an ashram in India, opened his ears to new sounds. Rollins returned and his subsequent recordings with Milestone Records incorporated elements of jazz fusion into his repertoire. Rollins's 60+ years of performing include collaborations with such renowned musicians as Bud Powell, Thelonious Monk, Charlie Parker, John Coltrane, and Max Roach. Miles Davis, one of Rollins's most frequent collaborators, once said that "he was a legend, almost a god to a lot of the younger musicians… He was an aggressive, innovative player who always had fresh musical ideas."
Sonny Rollins has had a strong, lasting impact on jazz. Many of his original compositions have become jazz standards. Memories of his mother singing traditional calypso to him have inspired him to incorporate aspects of calypso into his repertoire, most notably in "St. Thomas," one of Rollins's most famous instrumental compositions. Rollins sets himself apart from his peers in that these "thematic" improvisations are reinventions on the melody versus the usual foundations of chords or modes (simplified scales). Rollins was also the first jazz musician to pioneer performing in a pianoless trio, explaining that the piano "is a dominating instrument. I need the freedom to choose my own harmonies and rhythms—to take the music where I want it to go." His current bands feature guitars rather than pianos as the primary harmonic instruments.
Rollins has recorded 94 albums, several of which have won or been nominated for Grammy Awards. In 2007, he was awarded the Polar Prize, a prestigious international music award. In 2004, he was honored by National Academy of Recording Arts and Sciences for his lifetime achievement in jazz. Most recently, he was awarded the 2010 Edward MacDowell Medal, given to artists who have made outstanding contribution in their field. Past recipients include Leonard Bernstein, Merce Cunningham and Georgia O'Keefe. Gary Giddins, chairmen of this year's committee, states that Rollins "personified the fearless adventure, soul, wit, stubborn individuality, and relentless originality that are jazz at its finest."