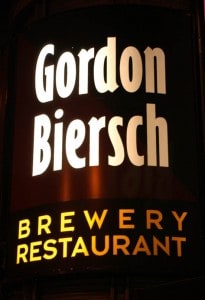 I moonlight as a travel photographer and get to publish web pages for a couple of travel oriented web sites. As such as often as I can, I tend to go back to places I've previously visited and written about, to get an update. Today I happened to be in San Francisco to meet some colleagues and compare notes about travel in San Francisco. Their specific objective was to find all the FREE things to do in SF (I'll get notes for a future SSC update). During our planning I learned that they liked beer so I suggested that we meet at the Gordon Biersch restaurant on the Embarcadero.
The beer list continues to be consistent. Their brews tend to be more on the light side but their Marzen is a bit darker and more to my liking. Unfortunately today the restaurant must have had a bad day or I just chose the wrong entree from the wrong service provider. The fact that it took the hostess a few tries to figure out I really did have a reservation should have given me a clue that this was not going to be a good day.
I was seated and provided with a menu but then I just sat… A couple of attempts to flag the wait staff didn't work but finally after 10 minutes I managed to get one's attention. I asked about their seasonal beer and he was quite prompt with a description and offer of a taste but indicated I was not in his section. Ok, that's fair.
I got my taste and started checking email while I waited. Another 10 minutes slipped by before I was greeted and asked if I cared for anything to drink. At this point I was on to let's just see how this day might be, so I started timing things and I asked for a pint of Marzen. Before I could ask for any food she was gone. It took about 5 minutes for the bartender (who had 6 customers at the bar that holds 20+) to pour the pint.
I got the pint and I asked to order food. I put in the order and sat back expecting the same wait times. A pleasant surprise, the food order came up in reasonably good time. One bite and I think the delivery time was only because the food had been previously cooked (can't prove that one) and just sort of reheated. Needless to say, I was disappointed again. The food (Kobe sliders with Onion rings) was barely warm. The burgers were like cardboard and the rings were cold and greasy.
The bus-staff were quite prompt. As soon as it was noted that I was done eating they politely asked to remove dishes. I again waited about 10 minutes before the server stopped by and asked if I cared for another drink. I replied that I was though. I should have added please give me the check as it took another 10 minutes before she stopped and asked again if I wanted anything else. This time I asked for the check specifically.
In all it took over 1 hour to get one beer and one appetizer. I'll probably return to try them again, to see if things have changed, but it might be a while.