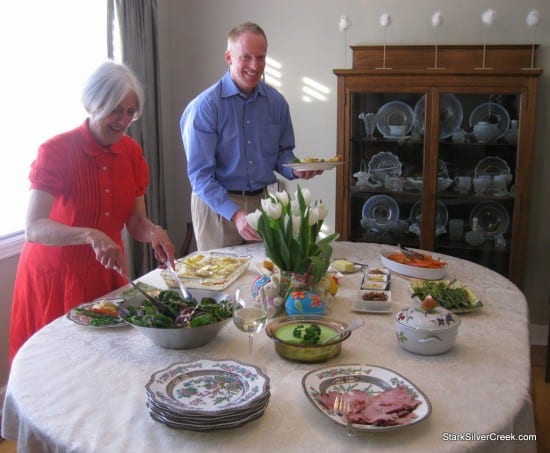 After landing in Ottawa at around 6 pm this evening, I was whisked away to an Easter dinner hosted by Graham and Ainsley Z—. I have been over to their home on several occasions, all during Christmas holidays where I recall needing to fight through snow, slippery ice and deathly cold air to get to their front porch. It was pleasurable on this occasion that I had to do none of these things as the weather in Ottawa, Canada is surprisingly warm today. No snow on the ground that for sure!
I thought I would be landing in Ottawa International Airport much later and miss most of dinner. Fortunately, this was not the case. I arrived just as the plates of colorful and delectable dishes were placed on the dining table.
Although, several family members contributed to the meal, I marveled at how the colors of all the dishes seem to still coordinate and match all the Easter decor. Must be Ainsley Z's magic touch!