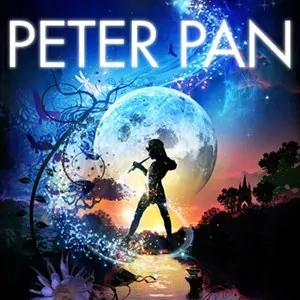 The cast for the U.S. premiere of J M Barrie's beloved story PETER PAN flies into San Francisco landing in a state-of-the-art theatre tent erected especially for this production at Ferry Park on the Embarcadero, opposite the Ferry Building. PETER PAN is the first major theatrical production to transfer to San Francisco directly from a successful London engagement. Conceived by an award-winning creative team and featuring 22 actors, stunning puppets, epic music, dazzling flying sequences and the world's first 360-degree CGI theatre set, PETER PAN should make for theatrical family entertainment.
The cast of PETER PAN stars members of the original London production joined by local Bay Area actors making it a truly international company. This production introduces a new Peter, British actor Nate Fallows. The role of Peter Pan will mark Nate's professional debut on stage. He trained at the Birmingham School of Acting and recently was honored with the 2009 Laurence Olivier Bursary Award.
Among the original London cast members featured are Abby Ford as Wendy Darling, Jonathan Hyde as Capt Hook/Mr. Darling and Itxaso Moreno as Tinker Bell.
Abby Ford graduated from the Drama Centre and played Princess Anne in the film Lewis and The Queen. Abby's theater credits include Les Dangereuses and A Midsummer Night's Dream (both at the Theatre Royal, York) and she has been seen in many films including Harry Potter.
Jonathan Hyde is a familiar face to movie-goers, starring in such films such as Titanic, The Mummy and Jumanji. Mr. Hyde's theatre credits include Ian McKellen's King Lear, The Seagull and Romeo & Juliet for the Royal Shakespeare Company among many others.
Itxaso Moreno comes from the Basque Country and she studied drama at Bilbao's BAI. Her theatre credits include Horses, Horses, Red and Dreamscape.
Additional cast members from the London production of PETER PAN include Darrell Brockis, Benjamin Chamberlain, Samantha Hopkins, Ciaran Joyce, Zoot Lynam, Mohsen Nouri, David Poynor, Antony Strachan, Ian Street, Lee Turnbull and Arthur Wilson.
The Bay Area performers include several Oakland natives: Aerialist and circus performer Rain Anya, who performs with local Bay Area performance group The Paper Doll Militia and the Dance Mission Theater, Sarah Holmes, the co-founder of the aerial theater company, Paper Doll Militia and Christopher Peak who has worked with the Sacramento Theatre Company and taught at Berkeley Repertory Theatre.
From Berkeley Andrew Gruen has studied with Hannah Kahn of the famed Pickle Family Circus and performed with the Palo Alto Players. Hailing from San Francisco is Brad Smith who trained with the Oakland Ballet and was a founding member of Backstreet Players. Justin Torres, from Vallejo, recently starred as Roger in Rent at the Golden Gate Theatre in Castro Valley and played the lead in Zombie: The Musical at the Exit Theatre in San Francisco.
Shannon Warrick lives in the South Bay and recently played Maria in Twelfth Night at TheatreWorks and Becca in the Pulitzer prize-winning play Rabbit Hole for both The Western Stage in Salinas and the Palo Alto Players.
Rounding out the local cast is Pleasant Hill actress Heidi Beuhler featured as Tiger Lily. She has danced professionally for many Bay Area companies, including Peninsula Ballet Theatre in San Mateo, Black Diamond Ballet Theatre in Antioch and Anne Bluethenthal & Dancers in San Francisco.
Co-starring with the actors in PETER PAN:
The world's first 360-degree CGI theatre tent at 100 ft high
A tent pavilion that features 12 large-screen projectors delivering 15,000 square feet of seamless Hi-resolution video with 10 million pixels of video immersing both cast and audience in a CGI Neverland
400 square miles of virtual London (rendered in 4 weeks by 200 computers, it would have taken 8 years for a single computer to render).