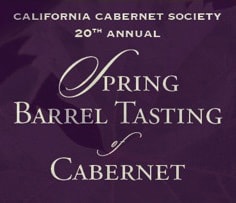 Here's a unique opportunity to sample 100 current release Cabernets from California all under one roof. The California Cabernet Society is holding its 20th annual spring barrel tasting on May 3 at Bently Reserve in San Francisco. It's a great opportunity to get a sneak peek at the 2009 vintage. Gourmet appetizers will be served.
Our very own Clinton Stark, co-founder and editor-in-chief of SSC says, "Cabernet is still King. When it comes to red wines, it's California's poster child. Big. Bold. Rich. What more could you want?"
From Wikipedia: In many aspects, Cabernet Sauvignon can reflect the desires and personality of the winemaker while still presenting familiar flavors that express the typical character of the variety. The most pronounced effects are from the use of oak during production. Typically the first winemaking decision is whether or not to produce a varietal or blended wine. The "Bordeaux blend" of Cabernet Sauvignon, Merlot and Cabernet franc, with potentially some Malbec, Petit Verdot or Carménère, is the classic example of blended Cabernet Sauvignon, emulated in the United States with wines produced under the "Meritage" designation.
But Cabernet Sauvignon can be blended with a variety of grapes such as Shiraz, Tempranillo and Sangiovese.[2] The decision to blend is then followed by the decision of when to do the blending— before, during or after fermentation. Due to the different fermentation styles of the grapes, many producers will ferment and age each grape variety separately and blend the wine shortly before bottling.
The California Cabernet Society was founded in 1991 by 40 small wineries for the purpose of promoting Cabernet Sauvignon and educating consumer, trade, and press about the qualities of California Cabernet Sauvignon. Each Spring the Society holds a major Barrel tasting in Northern California, showcasing barrel samples from the most recent vintage. Members of the trade and press are invited to taste and evaluate the promise and excitement of the newest harvest and its potential to develop into outstanding finished wines.
California Cabernet Society Member List

Adelaida Cellars
Amapola Creek
Arns (Highgate Wine Co)
Arrowood Vineyards & Winery
Ashe Family Vineyards
Atlas Peak
Baldacci Family Vineyards
Barnett Vineyards
Beaulieu Vineyard
Bell Wine Cellars
Blue Rock Vineyard
Briar Rose
Buoncristiani Family Winery
Cain Vineyard & Winery
Carter Cellars
Chalk Hill Estate
Charles Creek Vineyard
Charles Krug – Peter Mondavi Family Winery
Chimney Rock Winery
Clark-Claudon Vineyards
Cliff Lede Vineyards
Clos Pegase
Corison Winery
Cornerstone Cellars
Diamond Creek Vineyards
Dry Creek Vineyard
Faust Winery
Frias Family Vineyard
Gargiulo Vineyards
Grassi Wine Company
Guilliams Vineyards
Hagafen Cellars
Hall Winery
Hendry Ranch Winery
Hidden Ridge Vineyard
Jericho Canyon Vineyard
Jordan Vineyard & Winery
Justin Vineyards & Winery
Keenan Winery
Kenefick Ranch
Kuleto Estate Family Vineyards
Louis M. Martini
Mario Bazan Cellars
Martin Estate
Merryvale Vineyards
Mi Sueno Winery
Moss Creek Winery
O'Shaughnessy Estate Winery
Owl Ridge
Peju
Piña Napa Valley
Raymond Vineyard & Cellar
Robert Craig Winery
Robert Mondavi Winery
Rocca Winery
Sequum Winery
Sherwin Family Vineyards
Silver Oak Cellars
Silverado Vineyards
Simi Winery
Sojourn Cellars
Star Lane
The Steven Kent Winery
Sullivan Winery
Terlato Family Vineyards
The Grade Cellars
Titus Vineyards
Trinchero Napa Valley Winery
Tudal Winery
Ty Caton Vineyards
Varozza Winery
Viader Vineyards & Winery
Vineyard 7&8
Volker Eisele Family Estate
William Hill
ZD