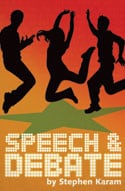 Aurora Theatre Company has announced that the Bay Area Premiere of Stephen Karam's fiercely funny Speech & Debate will close its 18th season. Robin Stanton (Betrayed, The Busy World is Hushed, and Permanent Collection) directs this distinctive new play Entertainment Weekly called "One of the top ten plays of the year…Even if you're not fluent in IM, you'll LOL at this subversive comedy." Featuring Jayne Deely, Jason Frank, Maro Guevara, and Holly Hornlien,Speech & Debateplays June 11 through July 18 at the Aurora Theatre in Berkeley.
Sex. Secrets. Performance art video blogs with a 90's pop beat. In Speech & Debate, three teenage misfits in Salem, Oregon discover they are curiously connected by a scandal that's rocked their hometown. When the trio (a "drama geek," a "queeny boy," and a budding school newspaper reporter) form an unlikely alliance to seek out and disclose the truth, secrets become currency, the stakes escalate, and their connection grows deeper in the quest for fame, free speech, and the perfect Broadway musical number. Hailed by Variety as a "savvy comedy…bristling with vitality, wicked humor, terrific dialogue and a direct pipeline into the zeitgeist of contemporary youth,"Speech & Debate questions what, if anything, it means to be an adult.
Director Robin Stanton returns to Aurora Theatre Company where she helmed last season's hit West Coast Premiere of George Packer's Betrayed; additional Aurora directing credits include Thomas Gibbons' Permanent Collection and the West Coast Premiere of The Busy World is Hushed. Stanton has directed productions and developmental readings for theaters including Chicago's Steppenwolf Theatre, Victory Gardens, and Chicago Dramatists. Often credited with helping to launch the career of acclaimed playwright Rebecca Gilman, Stanton championed Gilman's work in Chicago, resulting in the production of The Glory of Living at Circle Theatre, which garnered Stanton the After Dark Award and Jefferson Citation for Best Direction. Additionally, she served as Producing Artistic Director at Spokane Interplayers Ensemble and was recognized as a finalist for the National Endowment for the Arts Fellowship.
Nominated for 27 Bay Area Theatre Critics Circle Awards for 2009, Aurora Theatre Company continues to offer challenging, literate, intelligent stage works to the Bay Area, each year increasing its reputation for top-notch theater. Located in the heart of the Downtown Berkeley Arts District, Aurora Theatre Company has been called "one of the most important regional theaters in the area" and "a must-see midsize company" by the San Francisco Chronicle, while The Wall Street Journal has "nothing but praise for the Aurora." The Contra Costa Times stated "perfection is probably an unattainable ideal in a medium as fluid as live performance, but the Aurora Theatre comes luminously close," while the San Jose Mercury News affirmed "[Aurora Theatre Company] lives up to its reputation as a theater that feeds the mind," and the Oakland Tribune declared "it's all about choices, and if you value good theater, choose the Aurora."