Guest post by Jane Lurie.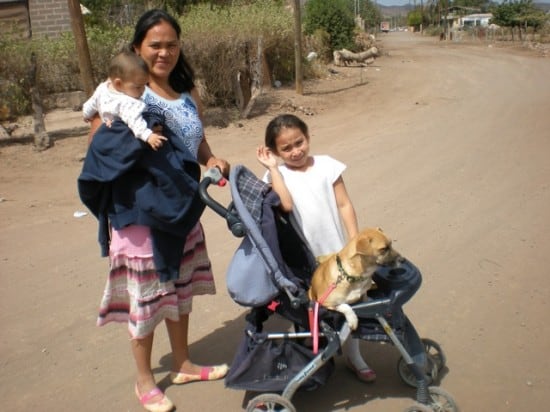 Followers of StarkSilverCreek are familiar with Animalandia. It was the first local group in Loreto to benefit from the sales of the StarkSilverCreek Calendar.
Animalandia was founded by two women, Denise Jones, DVM and Maria de La Luz Gonzales (Lucy), who were concerned about the plight of the many street dogs in Loreto.  They founded the non-profit to provide spay and neuter services and also education on the importance of the spay and neuter program.
Every few months, vets from the US come to Loreto and spay and neuter all the dogs and cats that are brought to them. This is also a time when there is a push to adopt street dogs and puppies. Members of the community volunteer to assist the doctors. Local restaurants provide food and residents provide lodging for the vets. I volunteered on Wednesday, March 10, along with Sharon and our friend Nancy. Nancy is an RN, so she was able to offer more skilled medical services.
When we arrived, there were already two surgeries in progress. Gretchen Anders, a vet from Wyoming, and her husband Dan, a vet tech, were working on one dog. Liz, a local vet, was working on another. Misty, who co-ordinated the clinic, briefed us on what we were to do. We prepared to receive the dogs after the surgery in a protected area outside. We set up some blankets and towels. The dogs were brought out still asleep. We covered them and stayed with them,  while they got their shots, until they woke up and wanted to stand up. Then we put them in their kennels. Some of the dogs already lived with families. Many were homeless. Every one of the homeless dogs was adopted that day.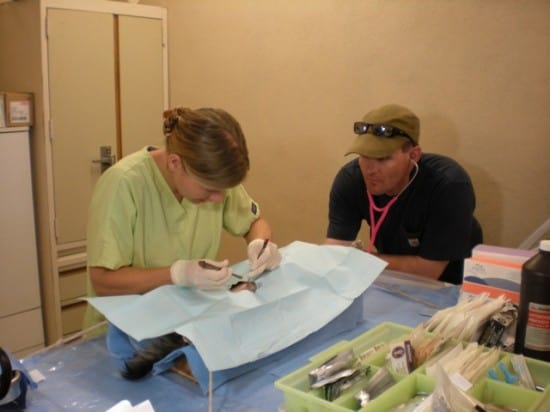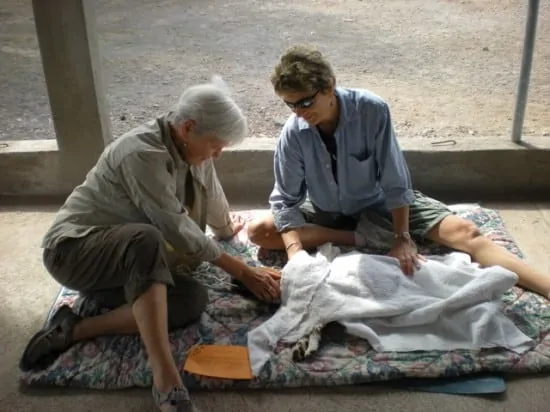 As the day progressed, the line of dogs, and one cat, waiting for surgery grew. Sometimes the place felt more like a MASH unit, with dogs coming into our "recovery area" almost faster then we could handle. Several local families came to choose puppies. The first family actually chose the mother of an adorable puppy. The mother was still very young herself. They named her Toby and wheeled her home in a baby stroller. (see the photo above)
These clinics have definitely made an impact on the number of homeless dogs in Loreto, as well as the way people take care of their pets. But there is still much more to be done. Many owners are not spaying their dogs. Litters of puppies arrive at Animalandia, sometimes thrown over the fence. These are the lucky ones. We often receive group emails about the latest litter of adorable puppies looking for homes.
What You Should Know About Loreto Street Dogs – we have several friends who adopted them. Every one that we know or have heard of are the sweetest, most loving and very grateful beings. And they are adorable. If you are considering bringing a dog into your home, please check to see of any of these dogs are available. I will end with some photos of the puppies that were at the clinic when we were there and some of our dear adopted friends.