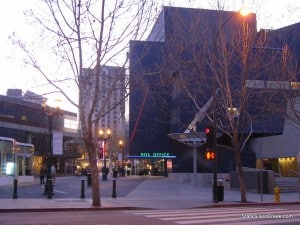 The San Jose Repertory Theatre today announced that West Coast Premiere of Karen Zacarias' critically acclaimed, comic drama Legacy of Light, has been added to the 2010-2011 season. This brilliant play intertwines the 18th and 21st centuries as it delves into the lives of two scientists, Emilie du Chatelet and Olivia Hasting Brown, and their fervor for motherhood and science. Legacy of Light is an intellectual joyride that confronts a timeless question: Can women push the boundaries of science and still find balance in their emotional and maternal lives?
"We've read hundreds of plays looking for the perfect complement to the other five titles in our 30th anniversary season, and when Karen Zacarias' Legacy of Light crossed my desk I knew I had found the one we should do," commented San Jose Rep's Artistic Director Rick Lombardo. "It's beautiful, smart, theatrically adventurous, poetic and funny. My first reaction to it, besides how moved I felt by its conclusion, was that if you attempted to combine the theatrical sensibilities of Tom Stoppard with Sarah Ruhl's, the product might look very much like this play. And I'm so pleased to be adding another West Coast Premiere to this anniversary season."
Emilie du Chatelet, an 18th century physicist, finds herself with child at age 42. Living in the fear that she will die in childbirth, Emilie hurries to finish her research and leave behind a legacy in a mere nine months. Flashing forward to the 21st century, scientist Olivia Hasting Brown has come to terms with the fact that she is unable to conceive a child, and turns to a surrogate mother. Zacarias beautifully brings together two gifted women who share a passion and a hunger for human continuity but also a lust for knowledge and the drive to do something "that matters."
Written by Karen Zacarias, Legacy of Light will fill the Rep's fifth show slot and will run from March 24, 2011 – April 17, 2011. Press opening night is Wednesday, March 30, 2011 at 8:00 p.m.
The 2010-2011 subscription season also includes the World Premiere of Philip Kan Gotanda's sophisticated, romantic comedy, Love in American Times, and Ronald Harwood's The Dresser, a love letter to theatre. The season also includes two additional West Coast Premieres: Frank Higgins' moving and melodic drama, Black Pearl Sings, and Robert Clyman's biomedical thriller, Secret Order, and the regional premiere of Lynnette Barkley and Christopher McGovern's enchanting new musical, Backwards In High Heels.