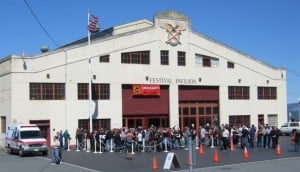 Rhone Rhangers, a non-profit dedicated to promoting American Rhone varietal wines, will hold its annual grand wine tasting in San Francisco this weekend. The largest event, it will be held at Fort Mason and offer a combination of seminars, presentations and wine tastings over the course of two days. The Rhône wine region in Southern France is situated in the Rhône river valley and produces numerous wines.
The Rhone Rangers dedicate themselves to the grapes whose ancestral home is in France's Rhone Valley. The French government recognizes 22 varieties in the various appellations that comprise this large and diverse wine-growing region. Rhone Appellations (including Cote Rotie, Hermitage, Condrieu, Chateuneuf du Pape, Gigondas, Bandol, Cotes du Rhone and several others) each choose a different subset from the collection of grapes known (from their place of origin) as Rhone varietals. For a wine to be considered a "Rhone Ranger" wine, and poured at an official Rhone Rangers tasting, the 22 recognized accepted varieties must comprise at least 75% of the blend.
The most common red Rhone varietals are Syrah, Grenache, and Mourvedre, with Syrah predominant in the Northern Rhone and Grenache in the Southern Rhone.
Principal white Rhone varietals are Viognier, Roussanne and Marsanne, each found throughout the Rhone Valley, with Grenache Blanc a widely planted but less well known contributor in the Southern Rhone.
Rhone Rangers San Francisco Grand Tasting takes place March 27-28 at Fort Mason.