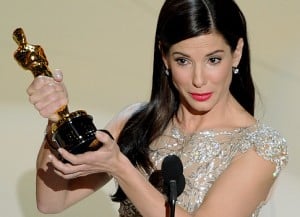 There must have been a few surprises last night when Avatar was snubbed for the big Oscar wins such as best picture and best director. It was even more amazing given that The Hurt Locker deals with Iraq and war, not the most historically sound combination for bringing home little statues.
But another surprise: Sandra Bullock's tender, heart-warming acceptance speech. According to Mashable where I first spotted this video, people are soaking up the replay all over the Internet.
The music, mind you, that accompanies her short walk up to the stage, probably won't make the Billboard 100 anytime soon.
"Did I really earn this, or did I just wear you all down?" she says at the outset of an emotional and laugh-filled speech.
In case you're keeping score, she does hold a grudge. George Clooney, who apparently threw her in a pool years ago, is still on her list.