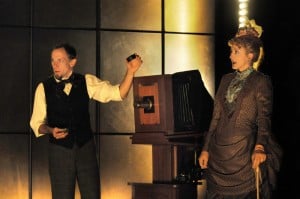 Berkeley Rep looks to continue its strong season (American Idiot, Tiny Kushner, Aurelia's Oratorio, Coming Home) when Concerning Strange Devices from the Distant West opens Wednesday night at the Roda Theatre.
Taking its title from a treatise on photography translated into Japanese, the play shifts between the present and the 1880s when a weird new technology first seized the world in freeze frame. Cameras capture images of geishas, monks and shrines and send them to the future in a flash—where we continue to seek meaning through lenses of exoticism and xenophobia. The intricate parts of this world premiere nestle together like a delicate puzzle…or erotic glimpses of an enigmatic tattoo.
The Village Voice wrote, "Brash, tender, and metaphysical by turns, her writing is pervaded with the sense of melancholy beauty that the Japanese call mono no aware—the knowledge that all things change."
Naomi Iizuka's plays have been seen at major theatres in Boston, Dallas, Los Angeles, New York, Portland, San Diego, San Francisco and Seattle. Berkeley Rep also presented the world premiere of her 36 Views before it played off Broadway.
Les Waters, associate artistic director, won an Obie Award for Big Love. His shows have ranked among the 10 best plays of 2007 in Time, 2006 in the New York Times and 2005 in TimeOut New York.