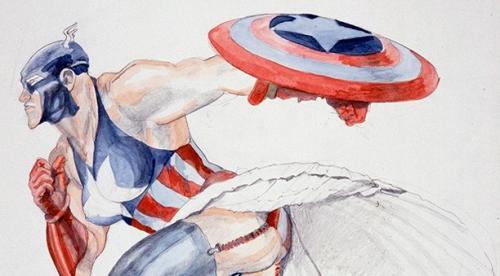 Intersection for the Arts has announced extended gallery dates for The Bodies Are Back, a new show from Margaret Harrison. The show will be on view through April 16, 2010.
In this exhibition, Harrison, one of Britain's best known women artists and a pioneer of feminist art, revisits the themes of her very early work exploring notions of the human body as an object of sexuality, consumption and gaze. The Bodies Are Back consists of approximately 20 works on paper (watercolor, drawing, and mixed media) that Harrison produced in the late 1960's/early 1970's displayed alongside approximately 25 new works created for this show. In 1971, Harrison's work was instantly met with controversy and antagonism (the London police shut down her first solo exhibition the day after it opened feeling that its contents were too controversial). This controversy caused Harrison to abandon the issues and themes of this series.
Now an established artist with work in the permanent collections of major international institutions, she is critically re-engaging with this body of work, continuing the dialogue that she began four decades ago.
The Bodies Are Back opens on February 10, 2010 and runs through April 16, 2010 at Intersection for the Arts, located at 446 Valencia Street between 15th and 16th Streets.
Intersection for the Arts is San Francisco's oldest alternative non-profit art space (est. 1965) and has a long history of presenting new and experimental work in the fields of literature, theater, music and the visual arts, and also in nurturing and supporting the Bay Area's cultural community through service, technical support, and mentorship programs. Intersection provides a place where provocative ideas, diverse art forms, artists, and audiences can intersect one another.