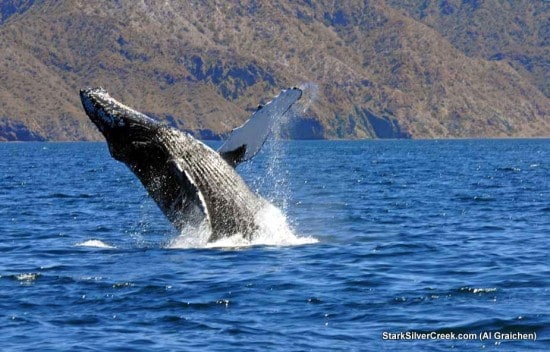 A week is just not enough time to get much done in Loreto, especially when you're building a house. We're one of the lucky ones and have been "in residence" for almost two years. Still there is always something different to do and see. As many times as I walk the Malacon, I see a photo op differently each time.
The one goal on this trip, other than to get the leaks fixed and walls patched once and for all (fingers crossed) was to get out on the bay to see if the whales would cooperate. Whew…After an hour or so of wandering, we spotted one. "He" was just cruising along minding his own business, so we moved in to watch. Nada…. He just continued to cruise.
Another was spotted, or maybe it was the same and he'd just changed course while under water. Again more cruising, cruising, cruising, WOW, a breach. All of a sudden the beast began to slap its tail over and over. Instead of breaching forward, it would just undulate and toss its tail up and slap the water over and over.
Next came the flukes.
First the right, then the left, then repeat. It was almost like it was orchestrated. We were just about to head north to Coronado for the Sea Lions when it went straight up. I managed to catch only the splash on that one, and the water filled the viewfinder. I could have used a wide angle instead of the 120-600 lens I thought I'd need to capture these beasts.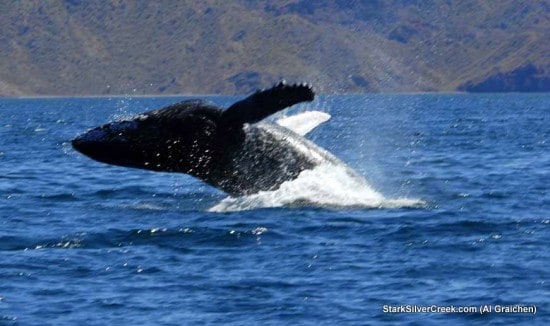 We were entertained for almost 30 minutes with breaches and tail slaps. Only one other boat that was returning from fishing stopped to watch.
With the show over we headed west to Picazon for a late lunch. As we approached the restaurant didn't seem to have much life, but our host heard the motor and waved us in. One other couple was dining but the restaurant was preparing for a wedding feast later in the afternoon. Still they had plenty of time to greet the six of us.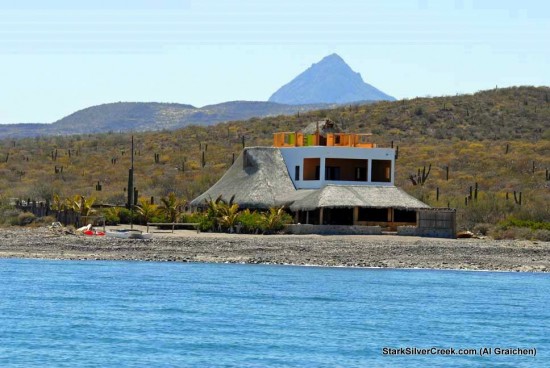 As usual everything tasted wonderful and the ambiance of the area just enticed you to lie on the rocky beach and soak in the rays…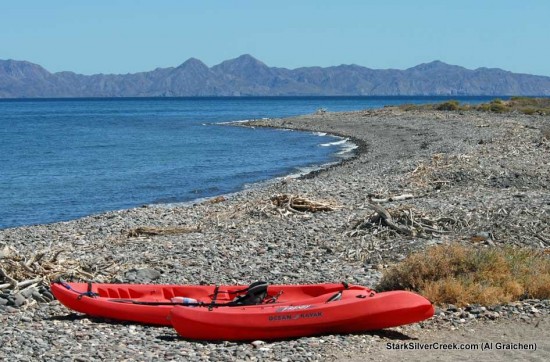 With full stomachs we headed south to Loreto's port. The sardines must not be around as there were nowhere near the number of sea gulls that I photographed in February. The wind was coming up as we entered the port and I could see a number of dust clouds by the airport and south to Nopolo. Yesterday the wind came up quickly, blew for about an hour then subsided just about the time we'd moved our dinner party from the patio to the dining room. It's a weather pattern we'll have to watch and plan for.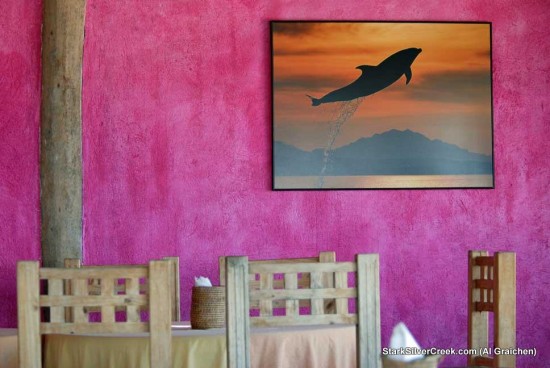 This has been a "quick trip" so the journey north begins on Sunday (a bit of a reprieve as we originally thought we'd have to leave on Friday or Saturday). Depending in Internet coverage and time between driving, another installment on the chronicles of a drive north will be forthcoming.